Online Club
Spread the Word!
(and also check out our newly styled Online Sunday School page!)
Our Online Club is still in development, but here are some
activities to suit a range of ages - just scroll through and find one you like...
Click Here for a Special Video Story for Pentecost with Sooty and Sweep
The Story of Pentecost Activity Sheets
Acts Ch.2 v.1-21 and
1 Corinthians Ch.12 v.4
Click Here for Page 1
Click Here for Page 2
Click Here for Page 3
Click Here for Page 4
for a 'Passage to Unpack' on Philppians Ch.4 v.4-9 about being positive, gentle and kind.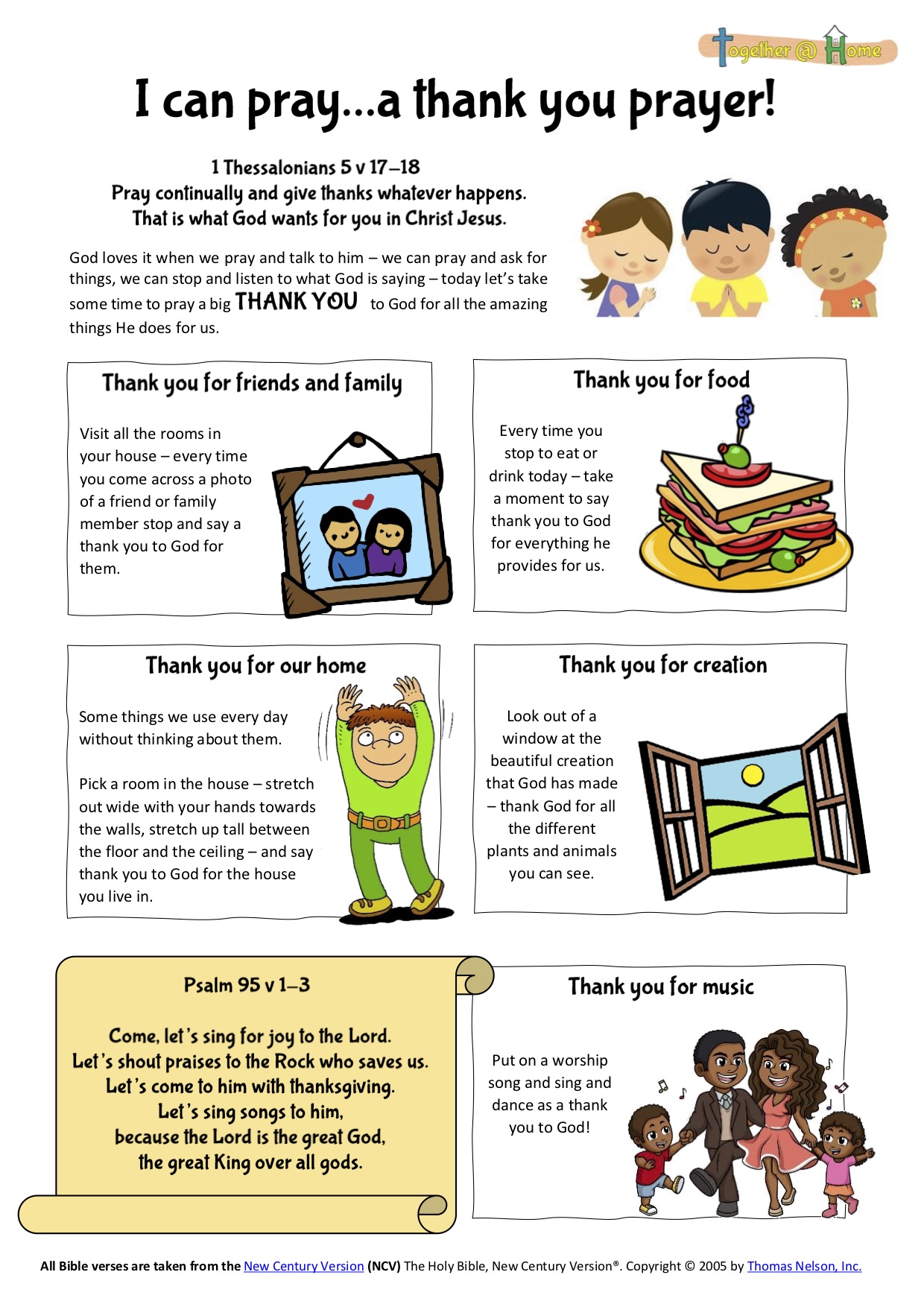 for an Activity Sheet relating to your teacher: "Dear Teacher"
for an excellent resource for parents: the 'Home Play' pack from Play Scotland
for 'I can pray... a Scavenger Hunt relating to Matthew Ch.7 v.7
for an Activity Sheet relating to Acts Ch 1 v. 6-14
Here's Our 'Bake a Rainbow' Challenge
You can Click Here for recipes
and design outlines
(and note that if you can't do the actual cooking, you can just design a cake!)
Thanks to Lynne for preparing this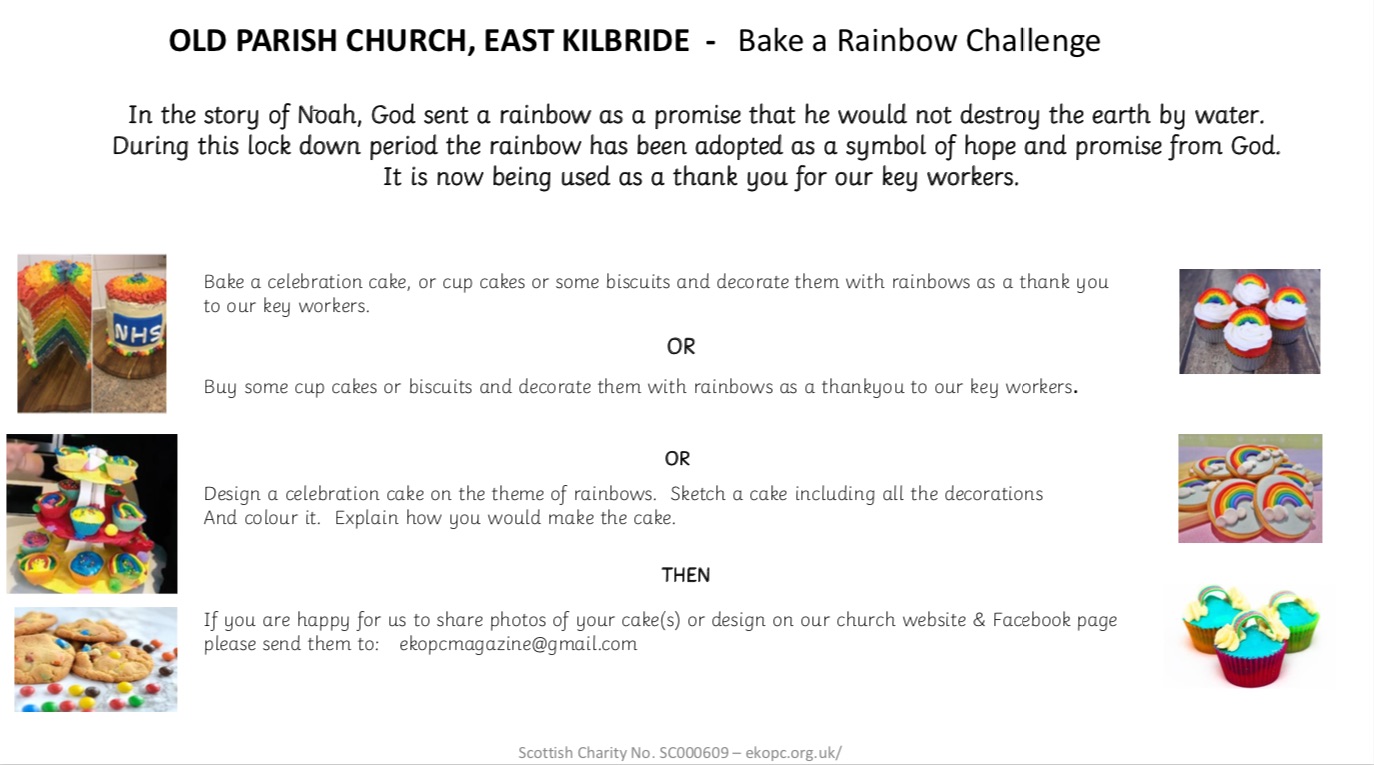 for an Activity Sheet about Jesus promising us a Helper - the Holy Spirit (relating to John Ch.14 v.15-21)
Mental Health Awareness Week:18-24 May
Why not try one of these activities each day?
For new resources & lots of ideas to help us all think about how we can be kind to ourselves & others during this difficult time! #nextweek #bekind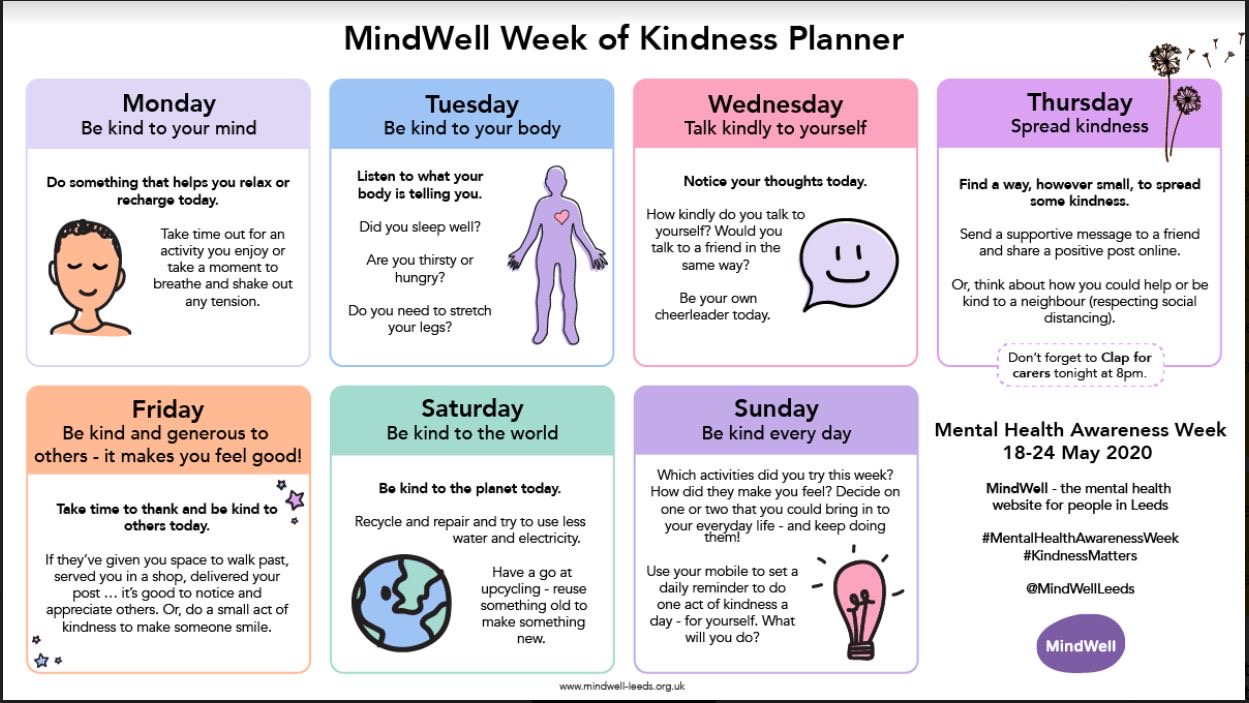 for an Activity Sheet about putting on the 'full armour of God' relating to: Ephesians CH.6 v. 10-18
Some children (and some adults) are experiencing a lot of change right now, so it's natural if they become more agitated or stressed.
This is an exercise from the Red Cross which parents can take children through (or it can be self led)to help them tune into their feelings and keep calm.
for a bug / butterfly painting/craft activity from Play Scotland.
for an Activity Sheet on the Noah Story (see Genesis Ch.9, v.8-17)
for an Activity Sheet called 'Me and God'
for an Activity Sheet called 'Spiritual Circuit Training' relating to 1 Timothy, Ch. 4, v. 8
for an Activity Sheet relating to Timothy Ch. 4 v 11 - 16 on the theme of using your talents, setting an example and encouraging others even if you are young.
for lots and lots of fun, outdoor activity ideas for children (and adults!) to get involved in around a garden theme. It includes a short video, photos and text.
Our Activity Sheet today will help us explore the story of Jesus comforting his disciples. John Ch.14 v. 1-14
30 Day Lego Challenge
Each day for a month there is a different challenge to build things linked to bible passages and stories: Click Here
(You may need to zoom in - it's a busy page)
for an Activity Sheet based on John Ch.10, v. !-10, the story of the Good Shepherd.
It has a number of sheep pictures on it, which I think you'll like.
Here are some more... Which do YOU like the best?
When you complete your Activity Sheet why not send in a copy of your best picture to This email address is being protected from spambots. You need JavaScript enabled to view it.? Thanks!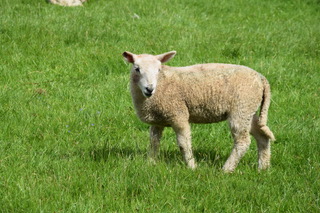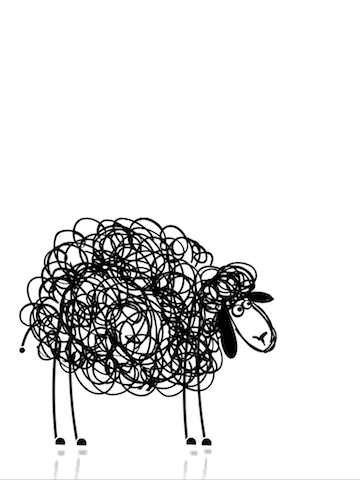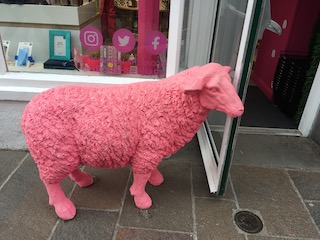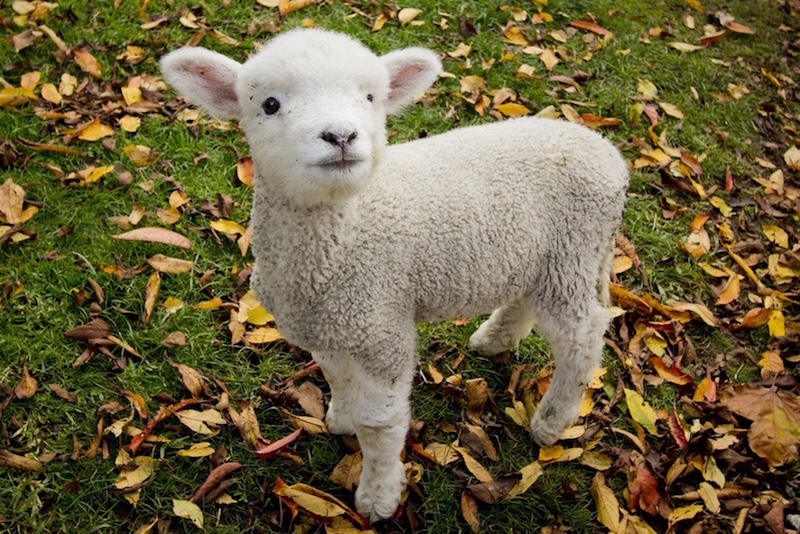 Today's resource is a mindful colouring activity - why not take some time to pray for the world by colouring in each of the countries on this World Map?
You might want to find out the names of the countries you do not know, write them around the edge and draw a line from the country to its name.

Then you could choose a country each day to pray for as a family, and take it in turns, or work together, to colour them in one by one.
for an Activity Sheet especially for the 3rd Sunday of Easter (26th April).
It relates to Luke Ch.24 v13-35
for an Activity Sheet based around rocks - (Relates to Joshua Ch.4 v21
for an Activity Sheet on 'Being Thankful' (Relates to Exodus Ch.16)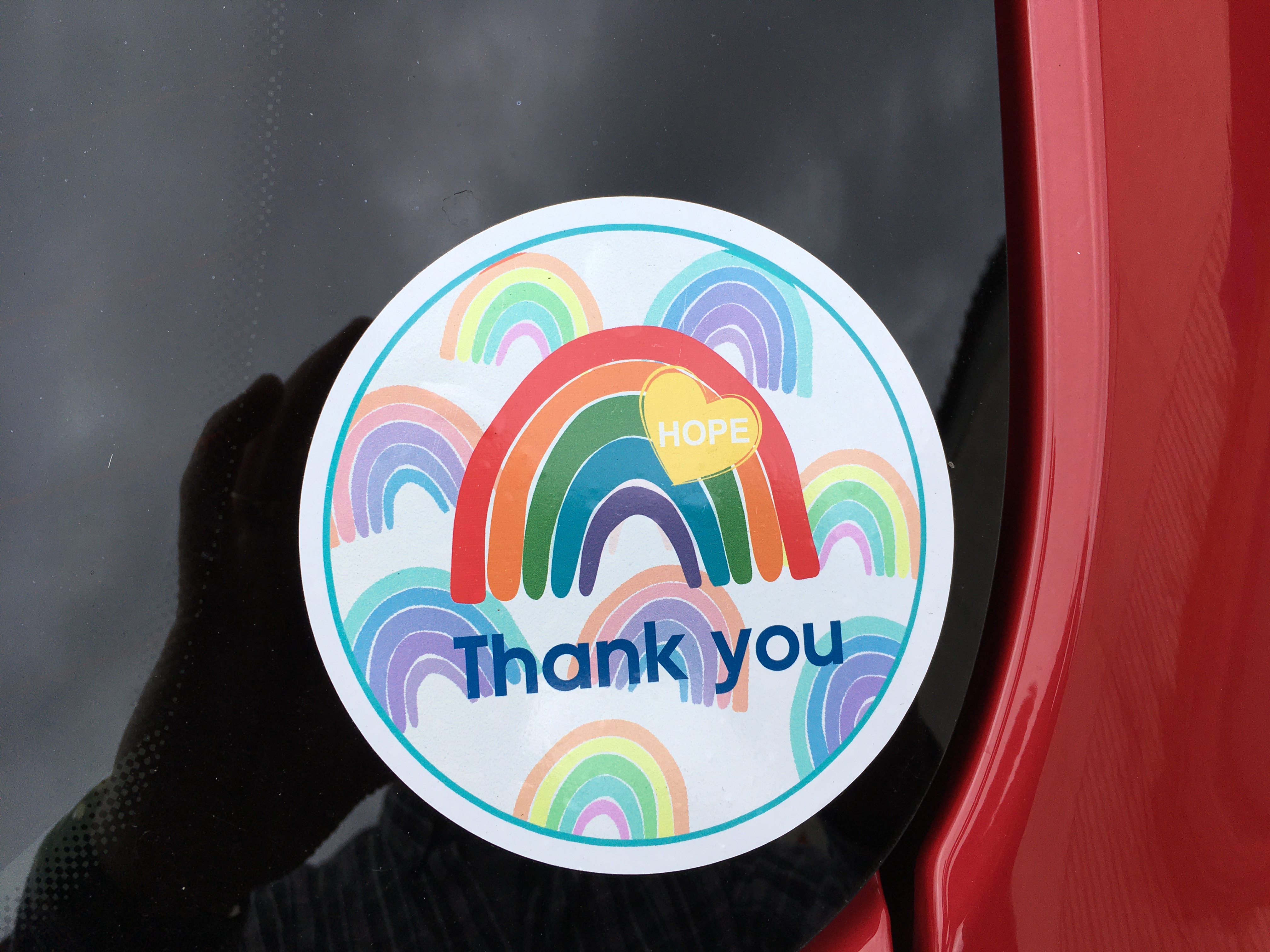 for a Colour-in picture of Doubting Thomas, a story read in the Sunday Service 19th April.
BIBLE BOOKS
Did you know: there are 66 books in the Bible (Old and New Testaments together) ? The names of 16 are hidden in the paragraph below. How many you can find? HAVE FUN!
"I once made a remark about the hidden books of the Bible. A certain luke kept people looking so hard for facts, and for others, it was a revelation. Some were in a jam, especially since the names of the books were not capitalized. But the truth finally struck home to numbers of our readers. To others it was a job. We want it to be a most fascinating little moment for you. Yes, there will be some really easy ones to spot. Others may require judges to help find them. I will quickly admit it usually takes the preacher to find one of them, and there will be loud lamentations when it is found. A little lady says she brews a cup of tea so she can concentrate better. See how you will compete. Relax now, for there really are sixteen books of the Bible in this paragraph".
Did you find them all? For the answers Click Here
for a poem/prayer which is fun to say out loud.
It starts: 'If I were a wiggly worm...'
For an eggstremely interesting experiment with an ordinary egg
Interesting Facts
1) Did you know that space has a smell? What do you think it might smell of?
According to some astronauts, it apparently has a smell of hot metal or a searing steak (in other words, cooking on a very hot griddle or pan).
2) In a study by Littlewoods.com in 2013, children were recorded during the day. They asked an average of nearly 300 questions per day (one every 2.5 minutes!) Among the hardest were: 'Why is water wet?' and 'What are shadows made of?'
Happy Bucket List - An idea to share
??? Quiz ???
(for our teenagers, but help from parents permitted)
Who wrote the poem 'Tam O'Shanter', and what item of clothing is called a Tam O'Shanter?

How many planets can you name?

What is the most common letter in the English language? It appears in 11% of all words.

In which decade was the computer invented?

What is a sombrero?

Where in London is Poet's Corner?




What's the difference between emigrate and immigrate?

What is a vacuum?

What is an insecticide?

Which footballer was credited with the 'Hand of God' in the World Cup 1986?
For Answers: Click Here
A Rainbow Activity