East Kilbride
Old Parish
Church
Church News followed at the end by the Minister's Pastoral Letter, and preceding that, the latest update from our Youth & Families Worker


COMMUNITY LINK APPEAL




T

he wonderful sum of £426.06 was raised by the collection at the end of November. Well done everyone!
KIRK LIFE REPORT


An Evening Cabaret with Jonathon McDade:

Thank you all who attended this concert evening. It was, once again, a huge success and we managed to raise £450 for church funds! Well done everyone!

SHOE BOX APPEAL 2018 REPORT
On 3rd November we hosted a very successful Shoe Box Coffee Morning to receive donations for this year's appeal. In addition to the goods donated, we received money donations of £383.83 to assist with transportation. The final totals were 180 boxes packed and £650.00 to assist with transport.
Thank you all for your generosity. (Christine Tweedie, Brown Owl)

HARVEST OFFERINGS REPORT
Very many thanks to everyone who supported the Harvest Appeal in October. By the end of the month, the total came to £1,137.09, which is a splendid result once again. This will be divided equally between Christian Aid and the Glasgow City Mission, with the result we can support work both at home and overseas.
(Stewart Smith)

BIG QUIZ NIGHT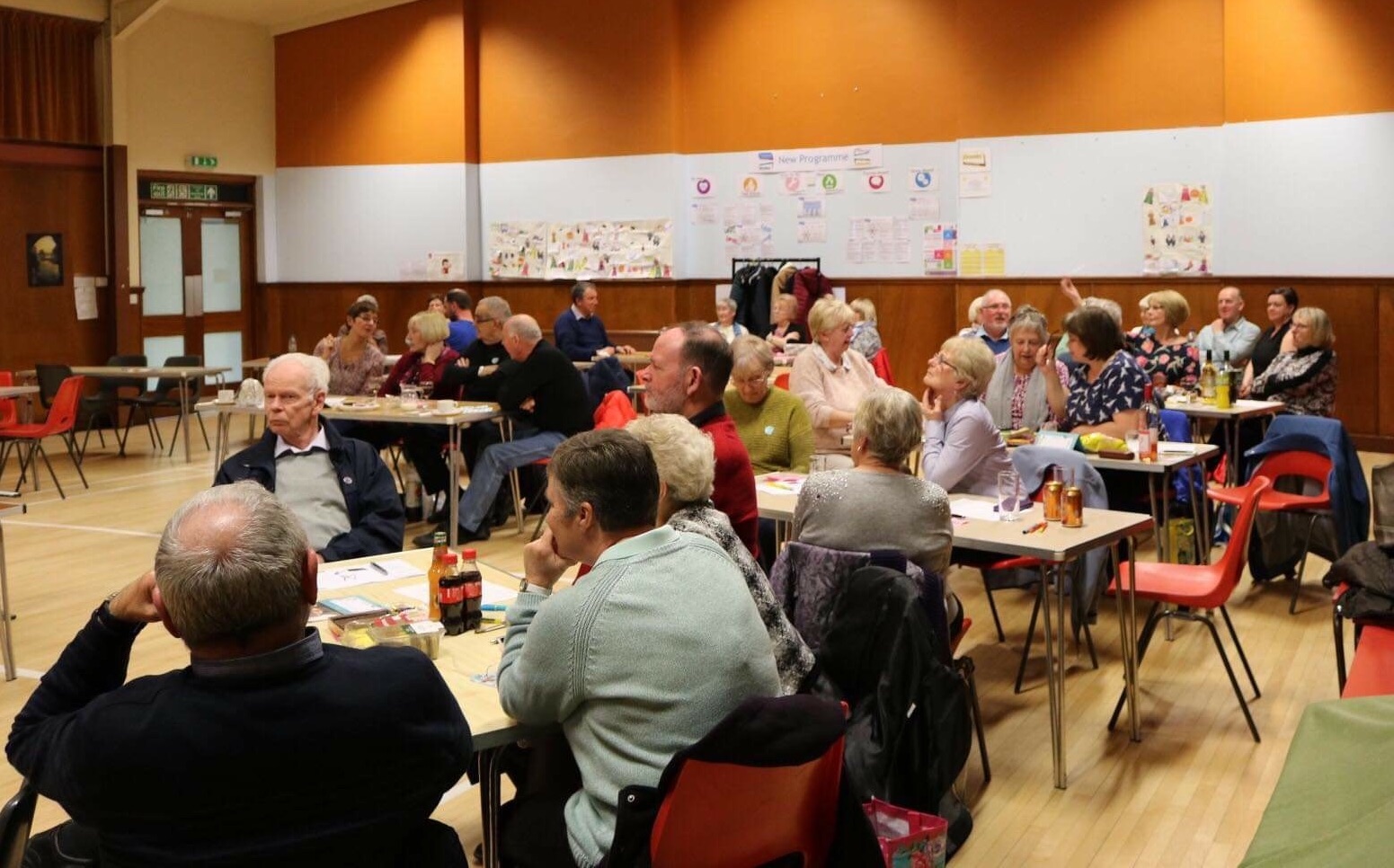 The 'Big Quiz Night' on 17 November, organised by the Youth Group in aid of the Tearfund campaign to end extreme poverty in the world was a great success. EKOPC was one of 489 churches throughout the UK taking part in this simultaneous event with a grand total of 24,087 "quizzers" ! In addition to raising £275 for Tearfund, the evening was enjoyable socially by church members and friends. Although a few of the questions were real "brain-teasers", the Kirk Life team and the Youth Group dispensed very welcome refreshments and home baking to sustain the teams. Many thanks to everyone who supported this worthwhile cause. (Iain Shaw, Youth and Families Worker)
YOUTH AND FAMILIES WORKER UPDATE DECEMBER 2018
At this time of the year, during the season of Advent and just a few short weeks away from our celebrations to mark the birth of our Lord and Saviour Jesus Christ, we tend to look back and reflect on the year that is coming to a close.
As I reflect on my few months here at East Kilbride Old, I think of the warm welcome and the very appreciative and supportive congregation who not only talk the talk but also walk the walk. I am grateful that this is helping us all to embark on a programme of new initiatives for young people and their families which has received the formal approval of the Kirk Session:
Together with the Youth Group we held a very successful Big Quiz Night on 17th November, in aid of the Tearfund campaign to end extreme poverty in the world.
In a few weeks time, on 16th December, we will hold a family Festive Film afternoon from 2pm until 4pm in the Glebe Street Hall. All ages are welcome to attend. See Home Page for more info.
On Sunday 23rd December there will be our all age family service which will include "Mamma Mia" - the Nativity. Please do come along and invite other members of your family and friends to join you.

Early in the New Year we will embark on our first Messy Church event.
I hope many of you will want to get involved in these as
well as supporting other exciting initiatives including further

monthly family fun activities

,

all-age family services

with participation from children and young people from our Sunday School and Youth Group, and a

holiday club

for children and young people over the February half-term school holiday and/or for some days during the Easter School Holidays.
All these activities are designed to try to attract families to our Church. Please do consider what part you can play in this important outreach work. I pray that God will prosper our plans and work here. Thank you in anticipation of your prayers and support.

May I wish you all a very happy Christmas and a peaceful and blessed New Year. Iain (Youth & Families Worker)

[Editor: Iain's piece on prayer and wee jokes will be found on Youth Group's Our Space section]


YOUTH & FAMILIES WORKER UPDATE (NOVEMBER)
The main purpose of my post is to develop, and introduce, with appropriate approval and help from the many talented and gifted members of the congregation, new initiatives for young people and families which complement what is already in place in our Church and to strengthen our links with the wider community.
The contents of the plan agreed at Kirk Session were derived from various meetings, discussions and my own observations. The 'headlines' of it are:
1 To introduce a monthly Messy Church group for 2 hours once a month for individuals and families
2 Run a Holiday Club during Easter 2019 and/or the mid-term February 2019 school half term break
3 In conjunction with the Minister, establish a regular family service in which children, youth and families can actively participate
4 Introduce a monthly themed fun night for young people and families e.g. film and pizza night, sports night, board games night, treasure hunt etc
5 Write to all families who have had a child(ren) baptised in the last 5 years. This will be a twofold communication, firstly to introduce myself and also to encourage them to consider getting involved and to let them know what is going on within the Church and the new initiatives about to start.
6 In conjunction with the Youth Group, hold a fund-raising quiz night to support Tearfund's attempt to end extreme poverty in the world. (Details in 'News' above).
Next Steps
Hold an initial meeting and invite anyone interested in getting involved in any of the above new initiatives to attend. Notice of this meeting will appear in the Order of Service sheets and be announced on the website and from the pulpit in the coming weeks. Thereafter, on separate dates, hold planning meetings to discuss each of the above initiatives in more detail.
I plan to spend a Thursday from 10am until 1pm in the small upper room of the Church Office complex which will allow me to be more accessible, receive visitors, or for anyone simply to pop in for a chat.
I would love to hear from you, whether you have children or not. I want to hear your ideas and opinions on what you think would encourage more children, young people and families into the life of our Church and what you think of the above suggested ideas – will they work? do you have any others? are you interested in getting involved in any of them? All views and thoughts will be most welcome.
I pray that God will prosper our plans & work here. Thank you in anticipation of your prayers and support. (Iain, Youth & Families Worker)
And here's the Minister's Pastoral Letter....

Pastoral Letter for December

So we're into December and the big question is "Are you ready for Christmas?" Advent is a time of preparation, but what does getting ready for Christmas look like. I found this wee poem which made me think:

"I'm ready for Christmas," she said with a sigh
As she gave a last touch to the gifts piled high.
Then wearily sat for a moment and read
Till soon, very soon, she was nodding her head.
Then quietly spoke a voice in her dream,
"Ready for Christmas, what do you mean?
Ready for Christmas when only last week
You didn't acknowledge your friend on the street?
Ready for Christmas while holding a grudge?
Perhaps you'd better let God be the judge."
She woke with a start and a cry of despair.
There's so little time and I've still to prepare,
O, Father forgive me, I see what you mean!"
To be ready means more than a house swept clean.
Yes, more than the giving of gifts and a tree,
It's the heart swept clean that He wanted to see,
A heart that is free from trouble and sin,
So be ready for Christmas and be ready for Him.

Are you ready for Christmas? Don't worry, there's still time.

Yours in love, Anne Paton


Pastoral Letter for November
On Monday 22nd October, an American theologian called Eugene Peterson died. That name might not be particularly familiar, but in 2002 he published a translation of the bible called "The Message" which has sold millions of copies. It's a paraphrase, and while a little American in style, it speaks to a younger generation in ways that more traditional translations simply don't. Millions have come to faith through his writings. What a legacy to leave to this world!
As I said in church recently, when I was clearing out the cupboard under the stairs, I found the original church keys I was presented with on the evening of my ordination on 4th April 2001. (They had been lost for around 10 years, oops!) As I looked at them, I remembered that the bunch of keys were put together by an elder of the church called Nelson Wright, some of you will remember him. Nelson did not write any great theological works, but he served God and his church faithfully, sometimes in particular roles like Session Clerk and Property Convener, but also tirelessly behind the scenes. We can't underestimate how much we as a congregation owe to people like Nelson, and there are many of them. What a legacy to leave to this world!
November is our annual remembrance season when we recall all of the people who gave their lives in sacrifice for the freedom of our nation. At our service in church on Remembrance Day, each individual order of service will have a name written on it, a name taken from our own war memorial. It's the name of someone who died in the service of our country. I will encourage everyone to take it away and think of them, who they might have become, who loved them, who mourned their loss, and give thanks for them. What a legacy to leave to this world!
Then I urge you all to remember the one who gave his life for the world, God's Son Jesus Christ, who died so that nothing can separate us from the love of God. What a legacy to leave to this world!
Jesus said, "This is my command: Love one another the way I loved you. This is the very best way to love. Put your life on the line for your friends. (The Message)
Yours in love Anne Paton


Pastoral Letter for October
As you probably know, I'm back living in the manse. Whoopee! There has been much unpacking and many trips to the charity shop and the rubbish dump. We have placed furniture, moved furniture, then put it back where it was in the first instance. Alas I still can't find my blue clerical shirt though!
It was the back of the manse downstairs where all the work was undertaken and it is looking fabulous. But a few days after we moved in, my priority was to move all the bedroom furniture round. Why? The bedroom had not been touched, nothing had changed. It was exactly the way it was this time last year. Well, the answer is that I wanted the bedroom changed, because I'm not the person I was this time last year.
Back then I was recovering from my accident and had to spend a lot of time in my bed. I watched the trees in the street change from green to orange and brown just as they are doing right now. Every morning last week when I opened the bedroom curtains (and went back to bed to watch breakfast TV) it was the same scene and it brought back all the memories of being that ill person. So now, instead of sitting in my bed looking up the street, I sit in my bed and look down the street.
It sounds so trivial moving furniture, but a year is a long time in a person's life. As we approach our Harvest Thanksgiving and think about all the things we can give thanks for maybe we need to stop and think of who we are and what our situation is. It's not about the past, it's about the present. It's about taking stock of our lives just as they are and being able to see all the blessings around us. No one has an easy journey through life, but having the opportunity to give thanks is a privilege. Let's use it this Harvest Thanksgiving Season to give thanks, not just for the material things we have, but for everything we have, which is God given.
Yours in love, Anne