East Kilbride
Old Parish
Church
Church News, followed at the end by the Minister's Pastoral Letter, and preceding that, the latest update from our Youth & Families Worker
Note: Be sure to check our Home Page 'Dates for your Diary' and Special Notices' too...
Church of Scotland Action Plan
Following important decisions at the recent General Assembly, the 'Life and Work' Magazine Team have sent out this message: "Decisions taken at the 2019 General Assembly have the potential to reshape the Church of Scotland at every level. To help Church members and congregations engage with the reform process, Life and Work has released a FREE 4-page guide summarising key decisions. Click HERE to view the guide, or visit www.lifeandwork.org/resources/general-assembly-supplement. "
EK Old Parish Church Local Action Plan
In response to the long-term trend of declining membership and shortages of ministers, the 2019 General Assembly agreed on a radical Action Plan to re-energise the church and, among other things, to share good practice and encourage innovation. Our Kirk Session will have to develop its own local plan to engage with the reform process.
Over the coming holiday months when members of the congregation may be at services in different churches, there is an opportunity for the congregation to help the Kirk Session by spotting aspects of mission or different initiatives which might be worth thinking about and bringing back to East Kilbride Old. This can be done by leaving a brief message using our Contact Us button or by speaking to the Minister or any member of the door duty team.
General Assembly 2019 / 'Life and Work'
The July edition of 'Life and Work' magazine available from 14th June has full coverage of the recent General Assembly.
Or you can Click Here to go to a day by day account of its business, check out a Beginner's Guide to the Assembly, read an interview with the new Moderator, and much more... for example:
"Church Leaders Hold Talks with Scottish Government - Church leaders met this week with Aileen Campbell MSP, Cabinet Secretary for Communities and Local Government, to discuss a range of issues including climate change, Brexit and the way government works with churches as key stakeholders in Scottish society". Click Here for more details. (7th June).
£686

Raised for World Vision '6K Walk for Water' - 2nd and 8th June 2019
Members of our Youth Group and their supporters, including the Minister and the congregation, took part in the World Vision 6K Walk for Water, organised locally to take place over the first two weekends in June at the James Hamilton Heritage Park Loch and Strathclyde Park.
Participants on Sunday 2nd June in EK were Caroline, Mirren, Abbie and Mum, Gregor, Karina,Tommy, Caitlin, Mark, Laura, Hazel, Sheena B, Thomas, Lorraine and Iain.

Two dogs also completed the walk! (Wait till you see Alfie in his little t-shirt when we post it in our Photo Gallery later!)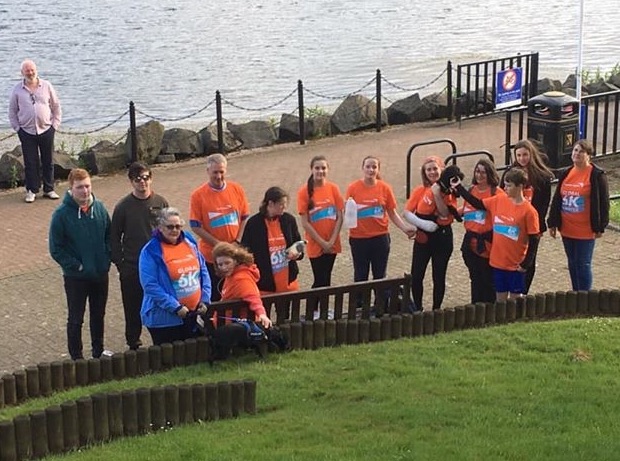 Here, Iain Shaw, our Youth and Families Worker, can be seen outside the church with Callum, Rachael and Inola holding buckets to collect donations to the cause from the congregation.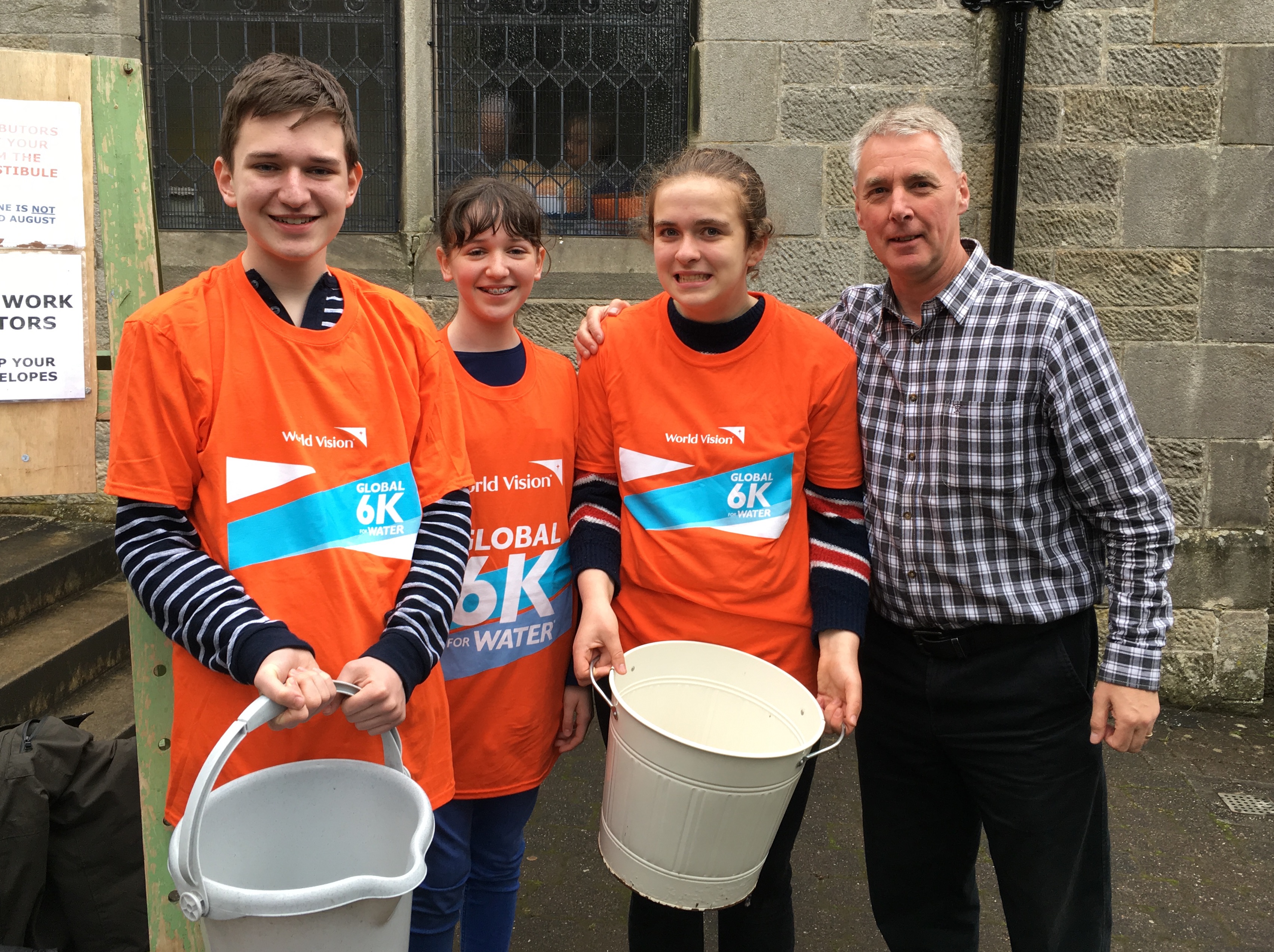 The second walk - on Saturday 8th June at Strathclyde Park - featured the Minister, her husband, the Brown family, and Sheena B along with our Youth and Families Worker Iain and his wife Hazel.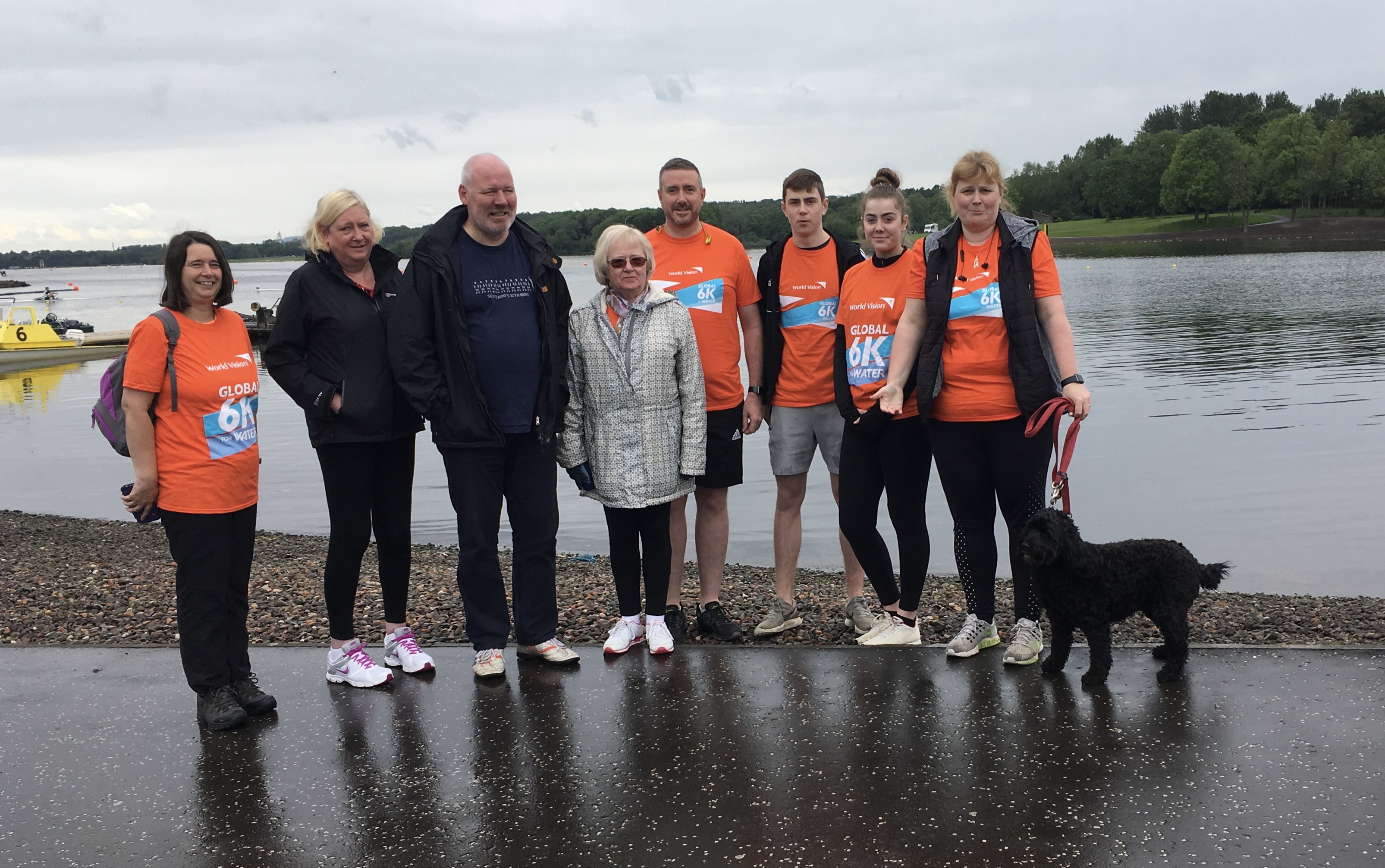 World Vision representatives will attend the Old Parish Church on

23rd June

to speak about their project and receive a cheque for the total raised, which we can now announce is £686. Many thanks for your generosity!
Update on Christian Aid Week, May 2019
This year, some of our regular Collectors were not able to help. For various reasons – health issues, family engagements, work demands - we came to the start of Christian Aid Week needing three more volunteers. And do you know something? After the Morning Service, in which Anne focussed our thoughts on the plight of mothers and babies in Sierra Leone, the theme of this year's Christian Aid Week, three more volunteers came forward. So a special 'thank you' to them!
This meant that we had a total of 41 Collectors, covering 45 Districts, who set out on our annual House-to-House Collection. Some of our helpers collect from two districts. The area covered includes our own parish in the Village; we also cover some streets in Stewartfield; and we cover also Auldhouse and Nerston, communities which by long tradition have been part of the parish area of the Old Parish. So, well done, all our Collectors!
Support for Christian Aid in and through the Old Parish continues to be strong. Earlier in the year, one member of the Congregation gave a special donation to Christian Aid of £1,000. In the course of the Week itself, one of our Collectors also raised money through her work; and another lady took some gift envelopes to give to her friends – "They won't dare refuse me!" she said, with a smile.
The total from the House-to-House Collection and donations from the Congregation so far has come to an excellent £ 3,341 In addition the Coffee Morning raised £241.70, and of course people contribute through the little Christian Aid Boxes throughout the year. When all the monies have been returned, a full statement will appear in the intimations. Meanwhile, very many thanks to everyone who donated and helped, not forgetting the team who decorated the windows and the other team who did all the counting. Through this commitment, the lives of people we will never know will be transformed, from despair to hope. This is Christian faith in action. (Stewart Smith)
YOUTH AND FAMILIES WORKER UPDATE (KEEP SCROLLING DOWN FOR THE MINISTER'S PASTORAL LETTER)
JUNE 2019 UPDATE
As I write this article the General Assembly of the Church of Scotland was about to debate and discuss its "radical plans for change" - no doubt we will hear all about these plans in due course. We have many challenges ahead for us as a national Church, local Church and a congregation but with God all things are possible and if we truly believe that then we need to put our trust in Him and let Him lead the way.
Reflecting on the vision for our work here in East Kilbride I decided to look at vision statements from four other leading organisations and note these as:
Ikea – "To create a better everyday life for many people."
Nike – "To bring inspiration and innovation to every athlete in the world – if you have a body you are an athlete."
McDonalds – "To provide the best quick service restaurant experience. Being the best means providing an outstanding quality of service, cleanliness and value so that we make every customer in every one of our restaurants smile."
Oxfam – "To have a world without poverty."
I will try over the Summer months to get a catchy and appropriate vision statement which will encapsulate our work with children, young people, and families. If you have any thoughts or suggestions please let me know.
A few weeks ago, my daughter was on her way home at the end of her 3rd Year at Aberdeen University and whilst packing her car with belongings and in a rush to get home she tripped and fell down a set of stairs resulting in a broken right hand. She is now having to adapt and cope to a change in her lifestyle albeit only for a relatively short time. But although change is sometimes difficult to accept, we always seem to adapt to the new way of working or accepting things are not as they used to be.
Within our congregation we have been trying out new ways of "doing Church" in an attempt to encourage more young people and families to take an active interest and participation in the congregation's life. These new expressions of faith will continue and more will hopefully be considered after the summer break.
In the meantime, life goes on and information on our forthcoming events and activities can be found in this edition of the magazine. Please try to support as many of these events as you can. I would commend the sponsored walk for World Vision which will help those in poverty overseas. It would also be great if you could come along the support our young people who are organising the family quiz night on Sunday 16thJune.
Hebrews 10:25 Encourage one another..
We are planning and looking forward to our Teambuilders' Summer Holiday Club and your help would be greatly appreciated. The holiday club is for primary school children and will run from Monday 5th– Friday 9thAugust (inclusive) from 10am until 12noon in the Church Hall. To run such an event needs a team of volunteers so please give it your prayerful consideration and if you would like to get involved in helping out, even for only one of the days, please let me know in person, by text or via email. Registration forms are now available for the holiday club and can be found in the various halls of the Church, in this magazine and also people can register on line via the Church website. Please take some flyers and pass them around your family, friends and households in your street and community. Please encourage those you know who have children in primary school to come along and enjoy our exciting programme.
1 Peter 4:10 Each of us has been blessed with one of God's many gifts to be used in the service of others.
May I wish you a relaxed and peaceful summer and if you're going on holiday I hope you have a fantastic time.
As always, I am very appreciative of all your support and prayers - thank you. Iain (Youth & Families Worker)
And here's the Minister's Pastoral Letter....
THE MINISTER'S PASTORAL LETTER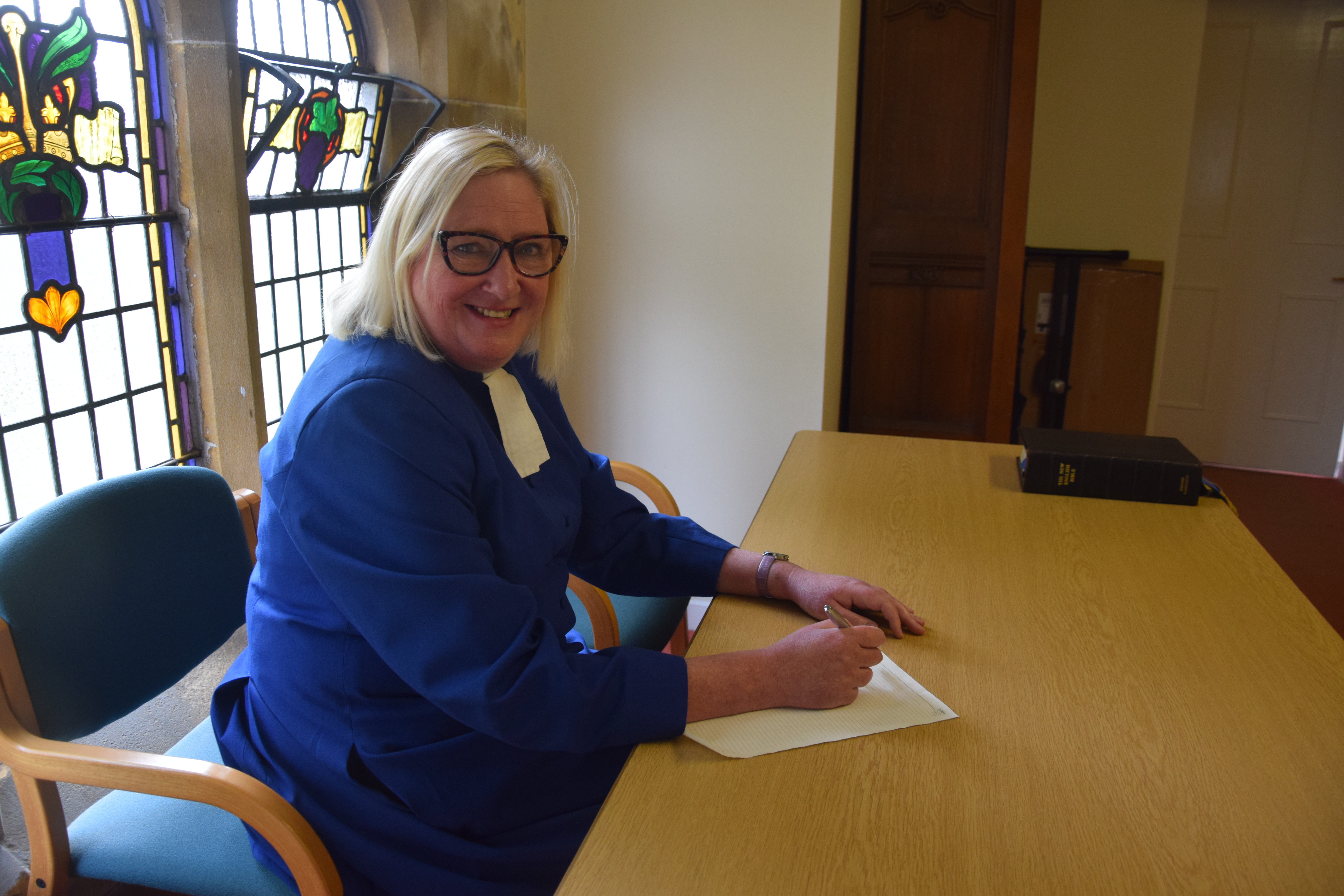 PASTORAL LETTER FOR JUNE 2019
I am privileged to be part of the chaplaincy team at Calderglen High School, and was fortunate to be involved in a series of school assemblies last week. One of the RMPS teachers was doing a presentation on Ramadan, the Muslim festival which is being observed at this time. I'm sure you know something about this festival, but let me just give a quick guide. Ramadan is a time for personal reflection and self-examination. (A bit like Lent is to us.) It's a time when Muslims look at their lives and try to be better people. It's a time for reading the Koran and for giving to charity. It's also a time for fasting.
Muslims fast from sunrise until sunset, and observing Ramadan at this time of the year, when we're coming to the longest days is a real challenge. There are a number of pupils in Calderglen observing this fast, so it was important to inform their fellow pupils in order that they could be understanding towards them. By the end of the festival, the sun will rise at 4.45am and will set at 11.10pm. During this time, there will be no food eaten and no water drunk. One of our friends, Thamar, is observing the fast. He's a research student, so copes with it by working during the night and trying to sleep during the day. Speaking to him the other day he was telling us that he can cope with no food or liquid, but it's going without cigarettes that he's struggling with.
I'm not advocating that we should all follow their example, but it really made me think about faith being costly, and not taking the easy way out. Genuine faith should sometimes take us out of our comfort zones and challenge us. Maybe over the summer months as we take time to relax, we should also reflect on our own faith journey, and ensure that we don't become complacent.
Yours in love, Anne Paton
PASTORAL LETTER MAY 2019
This year, I am a commissioner at the General Assembly, our annual church business meeting. The hot topic this year is the Council of Assembly's report, bringing before us the "Radical Action Plan," which addresses amongst other things, falling numbers and an older demographic amongst our members. (They brought one last year but it was thrown out because it wasn't radical enough!) We will see!
Recently at the Kirk Session meeting we talked about the things Jesus NEVER said, and one of the things he NEVER said was "It's better to be safe than sorry." Our faith asks us to go out and take risks. Obviously as good stewards we are not called to be reckless, but following Jesus Christ involves leaps of faith. I write this on Easter Sunday after we celebrated for the first time in East Kilbride Old, an all age communion service. I worked on the service with Iain, our Children's and Families Worker and yes, we were a bit concerned that some people might not like it. However, the feedback we had after the service was overwhelmingly positive, and I will never forget the picture of our children serving communion to the congregation. (Recipe in the magazine due to popular demand.)
"Behold I am making all things new" says the Lord. Let's hope the General Assembly doesn't think that it's better to be safe than sorry, and takes a leap of faith, does something different and radical and turns the trends in the church another way.
Yours in love, Anne Paton
PASTORAL LETTER FOR APRIL 2019
I am privileged to be part of the Calderglen High School chaplaincy team, and for four days recently, we ran a programme for all the P7 children in the feeder primary schools called "The Easter Code." Part of my responsibility was to run the craft tent, where we looked at the part the cross played in the story of Holy Week and Easter, and then talked about how the cross went on to become the symbol of the Christian faith, before the children went into the craft activity.

The groups are usually only between six and nine children, so there is time for conversation to take place while they are doing their crafting. As always, the children bring their own contributions, mostly sensible and insightful. In one of the groups, a child asked me how Christians could possibly see the cross as a symbol of their faith when it was how Jesus died. He said, "If he was shot, would you have a gun as a symbol of your faith?" It really made me think.

But the cross is more than just how Jesus died, isn't it? It's why he died which is the important bit; he died to take away all that can possibly divide us from God. He died so that nothing can separate us from the love of God and he died that we might have eternal life. That's why the cross is the symbol of our faith.
I hope you are able to join us at our Holy Week and Easter services where we can walk that last road of Jesus' life through the cross and come out victorious on Easter Day.
Yours in love, Anne Paton