East Kilbride
Old Parish
Church
News followed by the Minister's Pastoral Letter


"HELLO FROM OUR NEW READER-IN-TRAINING! My name is Bill Henderson, and I am a Reader-in-Training starting a training placement at East Kilbride Old. The office of Reader dates back to the Reformation in Scotland, and is one of the four formally-trained ministries in the Church of Scotland. It is a part-time ministry, focussed on preaching God's Word and sharing the Good News of His love and care for us - the Good News that Christ died for our sins (1 Corinthians 15:3).
I am married to Susan, and we have four grown-up children and one grandson. By the time you read this our second grandchild should have arrived. And no, we don't know if it's a boy or a girl.
In addition to the practical experience at East Kilbride Old I will be continuing my academic training through distance learning at the University of Aberdeen. I also work full-time, for Thomas Tunnock Ltd in Uddingston. That may all sound a lot, but I have found the whole experience so far thoroughly enjoyable and uplifting, and I would encourage anyone reading this to explore any call to God's work that you hear. I look forward to getting to know you all". (Bill Henderson)

SHOE BOX APPEAL 2018
At the beginning of November we will be hosting a Shoe Box Coffee Morning to receive donations for this year's appeal.
Once again we are looking for your support for this very worthwhile cause. The October EKO magazine contains a copy of the shopping list for this year's appeal (or you can get it online). All donations, large or small, will be gratefully received. You don't need to fill a complete box although that would be appreciated. If you bring your donations to the Coffee Morning on Sat 3rd Nov at the Glebe St Hall, all the Guiding Units will enjoy packing the boxes. If you would like items collected or you have any other questions please get in touch. (Christine Tweedie, Brown Owl)


CLICK-IT
We started our individual adult learning sessions on Tuesday 2nd October, running from 9.30am until 1.00pm,
Click-It is set up to help church members and the local community to improve IT skills, (eg using laptops, iPads, tablets or indeed phones) or adult literacy and numeracy (eg writing reports, letters, CVs or with percentages, additions or budgeting). Our sessions are open to anyone, not only church members, so if you know of anyone who would be interested, please pass the info on.

If anyone would like to join our team of volunteer tutors, on one day a week for one, two or three hours please contact Beth Clark at church, via the church office or use the Contact Us button on this site. You will get plenty of support from the other tutors, you just need patience and to be able to explain things simply. (Beth Clark)


KIRK LIFE
Christmas Card Scheme
You can sign up for this year's Christmas Card from now to 4th November. The system will be as in previous years that anyone wishing to add their name to the card will find a table in the hall after Sunday service with appropriate forms. Boxes will be placed also in the church vestibule to help you sign up and make your donation.
Basically, the idea is to help you send greeting to friends in the church without the need for individual cards and it helps the church benefit too!
The cards will be printed by South Lanarkshire Council. This will mean that all the names will have to submitted by the set date - 4th November. There will be a strict policy of no latecomers!

MESSAGE TO STEWART SMITH FROM THE LEPROSY MISSION: "Stewart, you changed João's life"
Your gifts, actions and prayers have a massive impact every day in the lives of people affected by leprosy around the world.
People like João (John) from Angola.
Every day you take the world a small step closer to the day when there is zero leprosy.
João lost his job because of leprosy. He couldn't provide for his children or send them to school. Until a chance encounter and your support turned his life around completely.
Thank you for helping João to defeat his leprosy.
Message from the Leprosy Mission to all of us:
There's a new way you can support people affected by leprosy when you shop online: The Leprosy Mission Scotland is now on Amazon Smile which donates 0.5% of your bill to charitable organisations of your choice when you shop, at no extra cost to you! Log on with your Amazon account at Amazon Smile, select The Leprosy Mission Scotland and that's it! Just remember to shop using the Amazon Smile link! (The Leprosy Mission Scotland)

A FILM WELL WORTH SEEING
Did you know that a member of our Congregation is a Film Star? His name is Bob Fulton and the film is called "Nae Pasaran".
It tells the true story of how Bob and three other workers in the Rolls Royce plant here in East Kilbride prevented aero engines being sent back to Chile in the early 1970s. Why? In 1973, the democratically elected President Allende of Chile was deposed in a violent overthrow by the military, backed by the CIA, and the brutal dictatorship of General Pinochet began. The Chilean Airforce took part in this coup-d'etat, and sent the engines back to this country for repair.
When Bob Fulton heard about this, he and his fellow workers began the process whereby the engines could not be moved – hence the title of this very moving film. It was made by the son of a Chilean refugee who found a new home in Scotland, as did many others. When I was minister in Renton, we had Chilean families living there, and in Germany, the son of our friends is married to the daughter of a Chilean man.
It's now 45 years since the overthrow, and to mark it, the film is going on general release. Watch out for it coming to East Kilbride – it is indeed very well worth seeing. (Stewart Smith)


POWER WALK
The walk was arranged by Christian Aid to highlight the need to support renewable sources of energy and commit Scotland to bold targets in the Climate Change Bill being considered by the Scottish Parliament. It was led by the Moderator of the General Assembly, the Right Rev. Susan Brown at the Whitelees Windfarm, Eaglesham Moor, after first speaking at the Carsewell Centre in Eaglesham. Quite a sizeable group gathered from various areas including Kilmarnock and Cumbernauld to name just two, and East Kilbride Old was well represented. Everyone got on well, thankfully the weather was fine, and we all enjoyed the exercise! (We had the choice of a 3 mile or 7 mile route on straightforward terrain). If you wish to support Christian Aid in this work, please visit their website, or speak to Stewart or Mary Smith, who I'm sure will be happy to assist. Note: More photos of the event have been uploaded to our Gallery (28/8/18)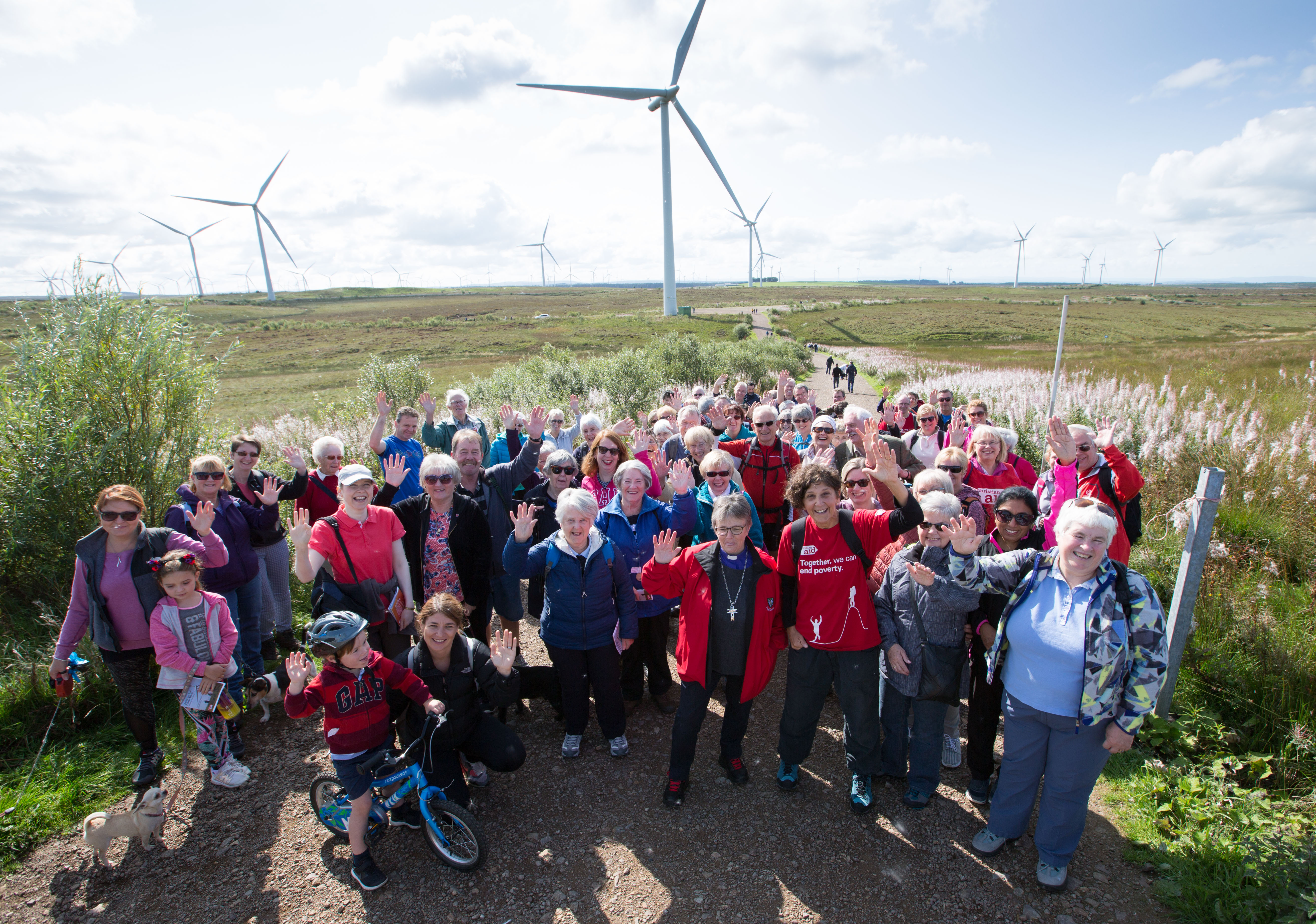 YOUTH & FAMILIES WORKER
Our new Youth & Families Worker, Iain Shaw, joined the church team in mid-August. Iain has a strong church connection and has been an elder of his own church in Strathaven since 1990. He has considerable experience in children's and youth work as a Sunday School teacher and leader, Youth Group leader and as a Boys Brigade officer for over 15 years. One of Iain's initiatives was establishment of a church youth group football team which is still going strong after nearly twenty years. I am sure we will all offer our usual warm welcome to Iain as we see him about our church and support him through our prayers as he sets about this vital Christian mission in our congregation.
Iain can be contacted through the church office – 01355 279004 (Alistair Walker, 16/8/18)

And here's the Minister's Pastoral Letter....

Pastoral Letter for October
As you probably know, I'm back living in the manse. Whoopee! There has been much unpacking and many trips to the charity shop and the rubbish dump. We have placed furniture, moved furniture, then put it back where it was in the first instance. Alas I still can't find my blue clerical shirt though!
It was the back of the manse downstairs where all the work was undertaken and it is looking fabulous. But a few days after we moved in, my priority was to move all the bedroom furniture round. Why? The bedroom had not been touched, nothing had changed. It was exactly the way it was this time last year. Well, the answer is that I wanted the bedroom changed, because I'm not the person I was this time last year.
Back then I was recovering from my accident and had to spend a lot of time in my bed. I watched the trees in the street change from green to orange and brown just as they are doing right now. Every morning last week when I opened the bedroom curtains (and went back to bed to watch breakfast TV) it was the same scene and it brought back all the memories of being that ill person. So now, instead of sitting in my bed looking up the street, I sit in my bed and look down the street.
It sounds so trivial moving furniture, but a year is a long time in a person's life. As we approach our Harvest Thanksgiving and think about all the things we can give thanks for maybe we need to stop and think of who we are and what our situation is. It's not about the past, it's about the present. It's about taking stock of our lives just as they are and being able to see all the blessings around us. No one has an easy journey through life, but having the opportunity to give thanks is a privilege. Let's use it this Harvest Thanksgiving Season to give thanks, not just for the material things we have, but for everything we have, which is God given.
Yours in love, Anne

Pastoral Letter for September
Today I have officially joined the 21stCentury! I've got a new mobile phone for work use, so now you can all text me as well as email me, or you can still do that old fashioned thing of phoning me on my landline and leaving a message on my answer machine. I can't however pick up my Church of Scotland emails on the phone due to data protection legislation. Until now I have resisted a mobile for work because it's not always convenient for me to respond and I much prefer to actually speak to people, but increasingly I have understood the need to quickly text something. Don't worry though, I'm unlikely to be checking out your social media accounts on it!
Communication is key to our life together as a church. We meet together on a Sunday morning and sometimes as I'm waiting to come into church, the noise of the chatter is quite loud. My friend Gayle worshipped with us recently and that was what she commented so positively on. (Remember, she ministers in Edinburgh, so she's not used to west coast friendliness and hospitality!)
In our technological age, face to face communication is becoming increasingly rarer, and breakdowns in communication are on the increase. I found a great quote on the internet which said, "If we can't solve our problem via our 'Whatsapp' group text, or by individual text, or by email or by phone call or by Skyping let's make a date to meet for a coffee." How true!
In our life together as a church, our communication is not just with one another, it is also with God. On Sunday 19thAugust, we introduced Iain Shaw, our new children's and families' worker and I preached that day on the importance of us being a "Praying Church." As we begin another new session in our life together, let's pray that communication is at the heart of everything we do.
Yours in love, Anne Paton

Pastoral Letter for June

There is a story told of a wagon train on its way from St. Louis to Oregon. Its members were devout Christians, so the whole group observed the habit of stopping for the Sabbath day. Winter was approaching quickly, however, and some among the group began to panic in fear that they wouldn't reach their destination before the heavy snows. Consequently, several members proposed to the rest of the group that they should stop their practice of resting on the Sabbath and continue driving onward seven days a week.
This proposal triggered a lot of contention in the community, so finally it was suggested that the wagon train should split into two groups - those who wanted to observe the Sabbath and those who preferred to travel on that day. The proposal was accepted, and both groups set out and travelled together until the next Sabbath day, when one group continued while the other remained at rest. Guess which group got to Oregon first? You're right. The ones who kept the Sabbath reached their destination first. Both the people and the horses were so rested by their Sabbath observance that they could travel much more vigorously and effectively the other six days of the week.
Too often we measure the importance of our lives by how busy we are. I have too many colleagues who love to "boast" that they haven't had a day off for weeks. Without rest and time to re-energise, we will not fulfil our potential.
With the summer months approaching and many of our church activities taking a break, I hope and pray that we will all find some time to rest and re-energise. Jesus said, "Are you tired? Worn out? Burned out on religion? Come to me. Get away with me and you'll recover your life. I'll show you how to take a real rest. Walk with me and work with me—watch how I do it. Learn the unforced rhythms of grace. I won't lay anything heavy or ill-fitting on you. Keep company with me and you'll learn to live freely and lightly." (Matthew 11, 28-30, The Message)
Yours in love, Anne Paton

Pastoral Letter for May
As I'm sure you know we are in the process of moving out of the manse to allow for a refurbishment of the rear of the house which will include a new toilet/shower room and a new kitchen and utility room. To that end, we have been looking at different options for the layout of the different areas, and often on a Saturday you'll find us in B&Q wandering around the kitchen area looking at different sinks and worktops. I don't know if you've been there recently, but we were astounded to discover that there are almost 200 different taps you can buy for your sink. 200 taps! They range from the basic ones, to taps with expanding cables on them so that you can wash your pots without actually having to put them in the sink! What taps to choose? What a dilemma!
I'm sure you've heard the phrase, "First World Problems." (These are problems only those in the developed world have.) When so many in our world do not have access to clean water, how can we complain about a dilemma of which taps to choose. We just need a tap that we can turn on and water will flow out.
I would guess that everyone reading this has a number of taps in their house from which water flows. (If you've got the one with the long cable, let me know if it's any good.) But I would guess that most of the time you, like us, take that for granted. Well if you do, let me tell you the story of Vilia.
Vilia lost her mum and her home when the earthquake struck Port-au-Prince in 2010. Bereaved and homeless, she went back to her home town with her husband and children. But life was a struggle, and they had nowhere safe to live. Christian Aid partner KORAL built her a new home that was strong enough to stand up to natural disasters. On the terrifying night when Hurricane Matthew hit, Vilia's neighbours fled to shelter with her. As the storm raged, she shared her home with more than 50 of her neighbours for several days. Despite the ferocity of the hurricane, which swept away surrounding homes, her house was barely damaged. Vilia allowed her home to become an emergency shelter. She is incredibly grateful for the help she's received but worries about those without a secure home. (You can find out more at www.christianaid.org.uk ) See also Stewart's article on page six. Christian Aid week comes round once every year, and it is our opportunity to make a difference. So every time you turn on one of your many taps in your home, remember Vilia, and remember the difference you can make to her life and to countless others like her.
Yours in love, Anne Paton