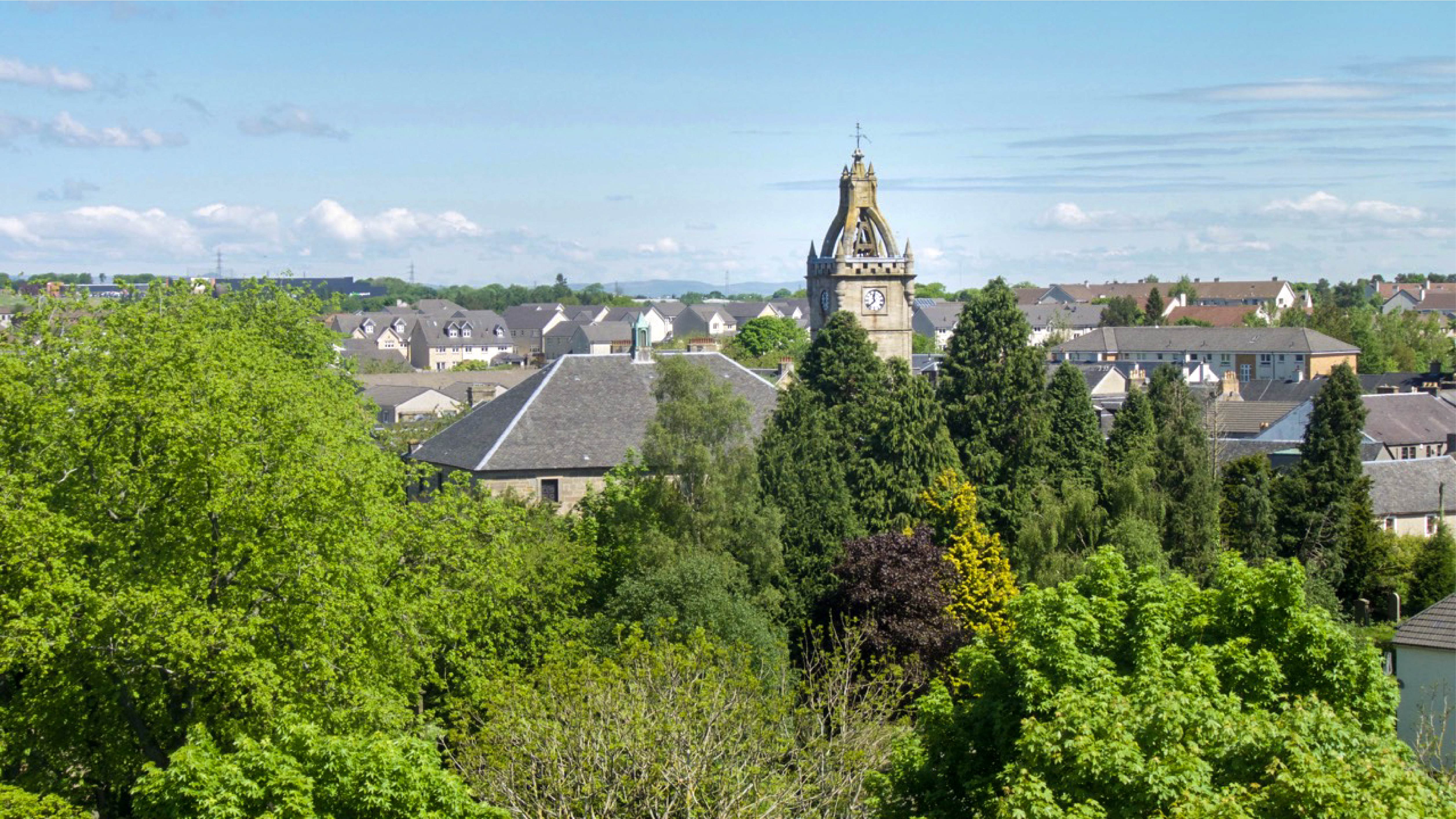 East Kilbride
Old Parish
Church
Normal church services are currently suspended due to Coronavirus.
Please join us for our online Sunday Morning Service 22nd November by clicking on the picture below.
Recordings of previous services are made available in a range of formats:
'Listen to...' and 'Watch a Service' below, Dial-a-Service, DVD, USB stick on request.
Online Sunday School / Messy Church  
Please join us next Sunday at time of  

9.30am -10.15am.
The theme for 22nd November is 'The Greatest Story of All Time: The Birth of Jesus'.
Online Sunday School is a chance for our young ones to have fun with a mix of music, puzzles / quizzes, games, crafts, 'circle time chat', a prayer, and a bible story from Anne, our Minister.
We are being flexible to cater for different age groups from, say, pre-school to Primary 7. 
Examples of previous work done and emailed in are shown on the Sunday School's 'Our Space' page. 
Getting ready to join in...
To join us via the Zoom app, please could a parent or guardian contact our Youth & Families Worker, Iain Shaw beforehand: 07912 295943 or iainshaw18@gmail.com

  

for advice, information and joining code number.
If you can find some paper, and colouring pens, pencils or crayons in the house, maybe some glue or Pritt Stick, or something relating to the advertised theme, you could have them handy for the craft activity. 
To find out more, and see what we do, go to the Youth section on this website, (aka 'The Young at the 'Old'), then click on Sunday School for info. Resources, photos etc will be posted on the

 'Our Space' page within (now moved to the top of the page from the bottom).
Sunday Services in Challenging Times 1:
Sunday Services - Video 
The latest video is available at the top of the Home page and/or 'Other Special Notices'.
It is also on Facebook at  www.facebook.com/EKOLDPC . 
Words for the readings and the hymns are shown on screen.
NB: Those of previous weeks will still be available if you click on the 'Watch a Service' button under the video. 
Sunday Services - Audio
For sound-only recordings of services, please click on the 'Listen to a Service' button under the video. These recordings are in date order. If you do not see the service you want, check you are in the right 'quarter'.
We also have a 'Dial-A-Service' system which plays a recording of our most recent service (like an answer machine). Please get in touch with Alistair Walker, or your elder, if you would like to know more about this for a friend or relative in the church.   
Know Someone with no Internet?
For members without access to the internet, we provide recordings in these formats: Dial-a-Service, CD, DVD, USB stick, all on request.  
Sunday Services in Challenging Times 2: How we produce the videos
Since Palm Sunday on 5th April 2020, our services have offered a new style of worship, in the 'virtual' setting of the sounds and images of East Kilbride Old Parish Church, but are made in the context of the current pandemic ie with no contravention of distancing rules. 
Lasting around 30 mins or less, they blend new videos, recorded by the Minister and readers in their own homes without outsider involvement, only technology! The hymns were initially those sung by our congregation in the past as we are lucky to have access to an archive of audio recordings from previous years. However, we now have a new sound - recordings made at home by a few choir members and blended together digitally.   
Virtual Tea & Coffee on Zoom, twice weekly...
... Sundays at 11.45am - 12.45pm  (Access Code 814-8227-9764)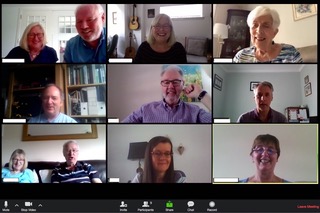 You are cordially invited to join in our 'virtual' Sunday Service Tea & Coffee, at 11.45am, not in the Lower Hall, as normal, but at your desk or coffee table, with whatever device you use to get onto the internet.
Bring along your own tea/coffee and biscuits (no spilling on the keyboard!!!), and we'll just chat as we always do. Drop in, or leave, when you like. We'll aim to close at 12.45pm but we can always extend it.  
The code you need for access to this 'meeting' will now be 814-8227-9764 each week.
For the guidance on how to join us, please see below.
... Thursdays, 10am - 12noon, (Access Code 820-1455-4693)
Anne, our Minister, invites you to join her at our Thursday Coffee Morning in what we might call our 'Zoom Room'. 
There must be no travelling to Glebe St. Hall of course - you'll find us on your computer, phone or tablet on Thursday, any time between 10am and 12noon. Bring along your own tea/coffee and biscuits (no spilling on the keyboard!!!), and we'll just chat as we always do. Drop in or leave when you like. The access code number for Thursday Coffee mornings every week is 820-1455-4693.

New to Zoom? It's as easy as choosing between 1, 2, 3 (and 4!)
NB: We now nominate a Helper if you need assistance with joining this 'meeting' on the day. 'Helpline' phone number for Sunday: 07912 295943 (Iain).
You can also get in touch if you would like advice before the day - use our usual choice of Contact details, as shown below, last item.
If you are new to Zoom and want to join us in the next meeting, please get set up beforehand. Try whichever of these methods suits you:
1)  Click Here (or below at 3 if you prefer pictures). 
Note: The separate code numbers for access for Sundays and for Thursdays are shown above.
 OR
2) Send us your email in advance and our reply will get you started. Either phone it in to EK 279004, or email us at ekopcmagazine@gmail.com .
Note: you must be able to access your emails on the device you plan to use for Zoom. 
 OR
3) Prefer picture guides?
a) Picture guide for people who have downloaded the 'app': Click Here 
b) For people who have not yet downloaded the 'app':  We recommend you watch the video at 4) below.
c) Picture guide to the control symbols when you are in the 'Zoom Room' (for beginners): Click Here for a picture of the screen in a meeting, explaining the controls eg for sound, video, etc. You can zoom in on the screen picture if required in the usual way.
4) Prefer a short video tutorial?  Click Here  
This is a short Youtube video made by a 'senior' couple who explain much of what we've told you above but in video format.
When you open it, change to Full Screen view by clicking the broken square at the bottom right of the video screen itself.
To go back again, click the Esc (Escape) key - top left on a keyboard, or use the Home button on an iPad. 
Need more help?
We will have nominated Helpers if you have a problem joining the 'meeting'. Just get in touch using our usual contact details (below, last item) preferably in advance. But you can also ring Iain, Alistair or Anne at the time of the meeting and one of them will 'step out' to give you guidance. Most commonly the issue is putting your volume or picture on. Read the guidance notes above to familiarise yourself with the control symbols. 
"The Church is the people not a building".
Our building may be closed, but the people of East Kilbride Old Parish Church are still here for you. Our volunteers are willing to help in many ways – just get in touch.
For example:
Need to hear a friendly voice, even if it has to be over the phone?
Need some shopping, a prescription, or a dog walker? 
In need of spiritual guidance, a few words of comfort, or a prayer to be said?
We check 'remotely', on a regular basis, for messages to the following:
Contact details: 
To contact us, telephone: 01355 279004, email ekopc.office@btconnect.com or you can use 'Contact Us' on this website. You can also go to www.Facebook.com/EKOLDPC  
Village Nativity Treasure Hunt
Please join us, and pass on the word about our Christmas story Nativity trail. This will take place in the Village area from 29th November until Christmas. Will you be able to find all 12 pictures and QR codes*  located in shop windows in the Village and piece together the first Christmas story? More to follow.
*QR codes were first invented in 1994, developed in Japan for use in the automotive industry. They are a type of square barcode which contains information stored in the black and white squares which can be "read" by smartphones. It's usually quicker than manually typing.
Here's a picture of a sample OR Code. When you see the real thing, you scan it with your phone camera to get the information.  Click Here if you would like to know more about this.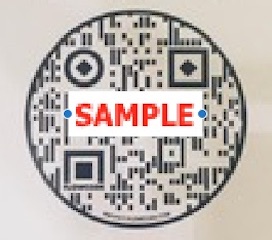 Save the Dates!
Virtual Family Christmas Quiz Night -  Saturday 12th December at 7pm for an hour.
Virtual Christingle Service - Sunday 20th December at 4pm.
Story time with Santa via Zoom - Tuesday 22nd December at 7pm.
Further details to be revealed nearer the time.
Covid Protection Levels and Churches 
As you probably know, South Lanarkshire moved into level 4 restrictions on Friday 20th November. For details in chart form of these restrictions as they affect churches, please Click Here .
For further, more detailed information from the government, go to  https://www.gov.scot/publications/covid-19-scotlands-strategic-framework/
Our Session Clerk points out that: "This comes with the reminder that these levels are based in law, approved by the Scottish Parliament, and therefore there is no option as to whether or not we follow them. 
You can find the current version of the Church of Scotland Guidance at https://www.churchofscotland.org.uk/resources/covid-19-coronavirus-advice  
Advent
Throughout Advent, all our Sunday services, except the 6th December, will be pre-recorded and will be available on this website, our Facebook page and on YouTube on the day of the service.
Sunday 6th December 
There will be a live service of lessons and carols from the church. This will be broadcast on our usual channels from 11am. Those wishing to attend please contact Louise at our church office. As numbers have been restricted further, in line with guidance from the Scottish government, we are able, if necessary, to live stream this service into both of our church halls.
Christmas Eve and Christmas Day 
There will be an online service to welcome the Christ child. This will be available from Christmas Eve at 6.30pm and throughout Christmas Day again on Facebook, this website and YouTube.
Prayer Items
Be sure to scroll down for our own Prayer Group information, and our daily prayer for the current month.
After that we have: 
The Church of Scotland 'Call to Prayer' details, including links to recordings of the last few prayers. The introduction to this week's prayer begins: "The imagery of the shepherd is woven into our understanding of the way in which the living God cares for us: 'I myself will search for my sheep and look after them. As a shepherd looks after his scattered flocks when he is with them, so will I look after my sheep.' (Ezekiel 34: 11-12)
You can find a link to a recording of our latest Sunday Service at the top of the Home page, refreshed each Sunday Morning.
If there are any technical difficulties, as an alternative you can also 
Click Here
 to view

.
Currently this link takes you to the service for: 22nd

 November
.
Online Sunday School / Messy Church
Our 'Online Sunday School' now meets on Zoom each Sunday, at 9am - 9.45am. The theme for Sunday 29th November is, 'Hope.'
Examples of work done and emailed in are shown on the Sunday School's 'Our Space' page.
We always have a mix of music, puzzles / quizzes, games, crafts, 'circle time chat', a prayer, and a bible story from Anne, our Minister. We'll be flexible to cater for different age groups from Pre-school to Primary 7.
See 'Our Response in Challenging Times' and/or the Sunday School page for more details, including how to join in.
EKO Magazine 
1) Please note: the deadline for submissions to the December EKO is Wednesday 25th November. The editor's contact details are given in the last item in this month's magazine which is available on our 'News' page.
 2) The latest edition of our EKO magazine is available to read, save, or print off - just click on the link given in 'News'. It includes the monthly Prayer Diary.
3) Contact Isobel Gray if you would like to receive the EKO by email and she will add you to the list - you can use the Church Office number: 01355 279004, ekopc.office@btconnect.com or email ekopcmagazine@gmail.com . 
A Message from our Finance & Gift Aid Convener
I would like to issue a heartfelt 'thank you' to all members of the congregation who have continued with their offerings by way of sending cheques, Bank transfers and Standing Orders in the past few months. Unfortunately, I have not been able to respond to or acknowledge the many donors as there have been too many to reply to individually.
Sending cheques to me for banking and recording has been the easiest and best way of keeping account of our Income flows.
Even though our Church remains closed for the most part, our fixed expenditure continues in maintaining the church premises, meeting general admin costs and contributions to the Church nationally and to the aid of those in need of help and support in the local community.
Even with the very generous efforts in offerings stated above, it is true to point out that our Incomes have understandably fallen short of meeting the levels required to meet our normal expenditure without having to dip into our reserves.
With this in mind, I would urge all members of the congregation to re-look at their level of givings and if possible increase their givings or for those who have not been able to "give" by not being able to attend church to support our church by sending cheques, made payable to East Kilbride Old Parish Church, to me at the address below*, or setting up Standing orders with their Bank or by direct Bank transfer. (I can supply Bank details and Standing Order forms on request). Obviously Offerings under Gift Aid are the most effective method of giving and should anyone not already giving in this way wish to do so, I can, as stated above, supply the required declaration form etc on request.
It is not an easy request to make, however in these very difficult times, it is reluctantly necessary.
Once more, I thank all those who are already giving as much as they can and regularly.
Des Laverty    (*address and contact details are printed in the EKO on our 'News' page)
The EK Old Parish Prayer Group
Our Prayer Group is not meeting at this time, but we are still taking prayer requests to our Heavenly Father on your behalf. Please send texts and emails to Marion Leddie.
Take your worries to the Lord in prayer.
Marion Leddie
 EKOPC Prayer Diary for November :
The prayer group continues to take your prayer requests to our Heavenly Father. Send requests To Marion Leddie.
Rejoice in the Lord always and again I say rejoice.!
1st. Pray for wisdom and insight for our leaders and scientists as they endeavour to make such important decisions regarding the health of our nation.
2nd.  All things are possible when we have faith and trust in you Lord.
3rd. Comfort the sick Lord, and the lonely, and give them strength to carry on.
4th. With the resurgence of Covid 19 please keep NHS staff safe to enable them to care for their patients.
5th. Lord hear my prayers.
6th. Pray for those whose treatment has been deferred due to the current situation.
7th. Thank God for the people in our congregation who are working hard behind the scenes to keep our church worship and pastoral care ongoing.
8th. On Remembrance Sunday we bring you all the families who have lost loved ones as they serve to keep us safe.
9th. Lord we give thanks that many of us can work from home.
10th.  Help me Lord, to treat others as Jesus did - with love and kindness.
11th.  Father help us to remain positive as further restrictions are put in place.
12th.  We pray for God's guidance to be with people who, after undergoing medical tests, have received from their doctor the very worst news and have to cope with it.
13th.  Father I don't look behind to see if you are there - I don't look ahead - I know that you always walk right beside me - what a blessing.
14th.  Pray for peace between the major religions of the world, through better dialogue and deeper understanding.
15th.  Thank you, Lord, for the many blessings in our lives.
 16th.  We pray for those having to isolate yet again that they will be mentally strong to help them cope.
17th.  Bless God for all the love and care by which we are surrounded every day.
18th.  Father, we bring you all who have lost their jobs and ask that you would look after them.
19th.  We pray that everyone would follow the guidelines and not be selfish in order to help all of us.
20th.  Father give shelter to the homeless as our weather worsens.
21st.  We pray that the scientists make good progress in their search for a vaccine against Covid 19.
22nd.  Pray for peace between nations and races and pray that we ourselves can be peacemakers.
23rd.  Thank you Lord, for the little things that mean a lot, sport, live screening of football, rugby etc. and meeting friends for a cuppa.
24th.  Lord, we pray for those working on the front line that they would have the courage, strength, stamina to cope with whatever lies ahead.
25th.  We pray Father, that we will be able to come together to worship as a congregation soon.
26th.  Lord, we ask you to comfort and bless all who  have lost loved ones in these difficult times.
27th.  Help us Lord, to care for all who are in need and remind us to go the extra mile.
28th.  Be still and know that I am God.
29th.  On the first Sunday of advent we head towards the celebration of the birth of Jesus.
30th.  Happy St. Andrews day! 

 Church of Scotland 'Call to Pray' 
Join the Church of Scotland and others in prayer every Sunday 7pm.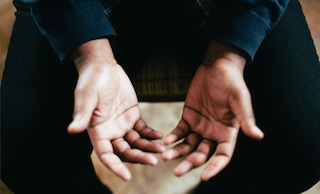 14 churches and Christian organisations across Scotland are calling on Christians to pray at the same time in response to the COVID-19 outbreak. Thousands of people across Scotland have been answering the call to pray during this time of sacrifice, difficulty and bereavement. Prayer has become increasingly a valued time for Christians as they pause to pray, conscious that many others will be sharing the same prayer at the same time. It helps create a sense of community when we are isolated through lockdown.
Click Here  for more details of the Call to Pray. 
Introduction to the Prayer for 22nd November
"The imagery of the shepherd is woven into our understanding of the way in which the living God cares for us: 'I myself will search for my sheep and look after them. As a shepherd looks after his scattered flocks when he is with them, so will I look after my sheep.' (Ezekiel 34: 11-12)
"These words speak to us and resonate in the depths of our soul. They do so because they speak to our longing to know that, in all we face, God watches over us and searches for us when we are lost. The words speak to us, especially in difficult times, and resonate profoundly in days of darkness.
"The times in which we live are difficult indeed and dark for many. At such a time as this, we still ourselves and listen for the voice of the One who calls us by our name. The Shepherd calls us by our name, even in the darkest of times, and comes to journey with us. The Shepherd journeys until, in God's good time, the darkness yields to the promise of the One who comes to reign as King forever."
We pray:
Good Shepherd,
Speak to us at this time
And hear us when we call to you.
Answer our call
And come to journey with us.
Lord, hear us.
Lord, graciously hear us.
Good Shepherd,
Search for us when we are lost
And gather us safely into your presence.
Speak to the depths of our fears
And still our anxious hearts.
Lord, hear us.
Lord, graciously hear us.
Good Shepherd,
Stand with us in the midst of these times
And do not forsake us.
Search for the lonely and the anxious
And embrace them in your love.
Lord, hear us.
Lord, graciously hear us.
Good Shepherd,
Strengthen us when we stumble
And renew us when we are weak.
Stand with all who are made in your image
And who reflect your goodness.
Lord, hear us.
Lord, graciously hear us.
Good Shepherd,
Support us when we suffer
And bring healing when we are wounded.
Strengthen us that we might strengthen others
And be with them in all we face together.
Lord, hear us.
Lord, graciously hear us.
Good Shepherd,
Speak once more to our hearts
And offer us vision and hope for days to come.
Go before us Shepherd King
And lead us into the future that you hold in your hands.
Lord, hear us.
Lord, graciously hear us.
Click Here  to hear the prayer for 22nd November said by the Moderator.
Click Here to hear the prayer for 15th November said by the Moderator.
Click Here to hear the prayer for 8th November said by the Moderator.
Click Here to hear the prayer for 1st November said by the Moderator.
Click Here  to hear the prayer for 25th October said by the Moderator.
 More Links to the Church of Scotland Website
At the bottom of our 'News' page, we provide links to different pages of the Church of Scotland website.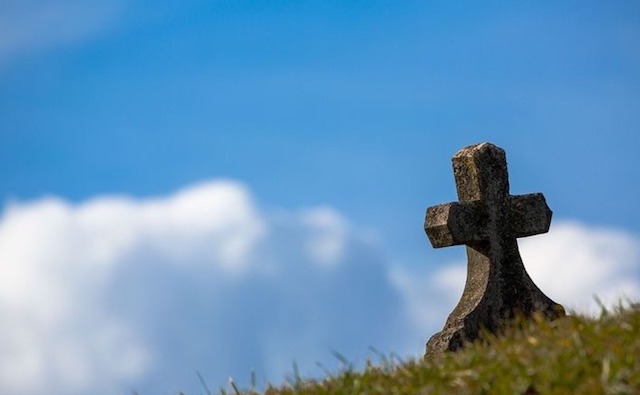 Contact details
We are here to help in difficult times! To contact us, use any of the following (all now monitored daily, despite the office being physically closed):
Telephone: 01355 279004; Email: ekopc.office@btconnect.com ; Send a Website Message via 'Contact Us' on this website;  Or to go to our Facebook page, click the link below.  
Uplifting Pieces and 'Funnies'..
..to lift people's spirits and raise a smile during these hard times.
A Madrid Market Displays a Rich Harvest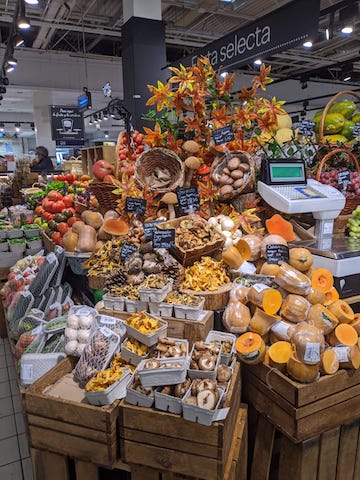 Two Calm Autumn Scenes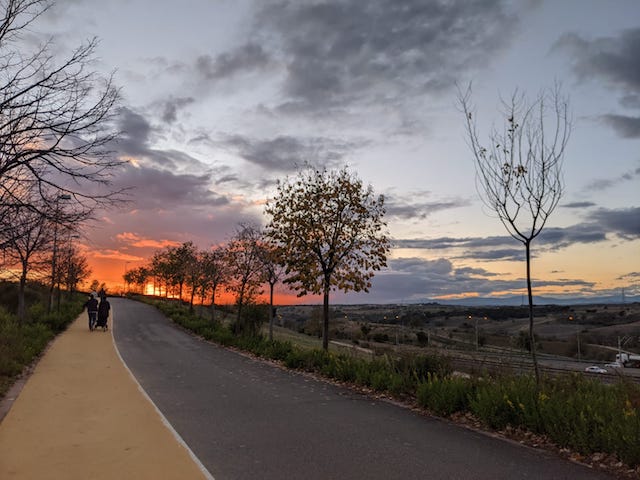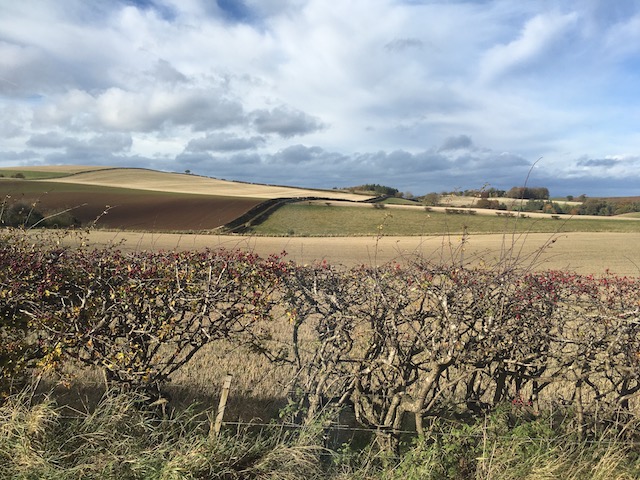 Poppies 
A beautiful piece of artwork by one of our members (sorry for the previous mistaken attribution).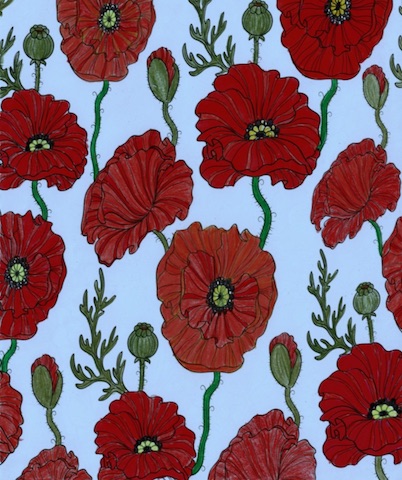 The Halloween Season 
1) Scary!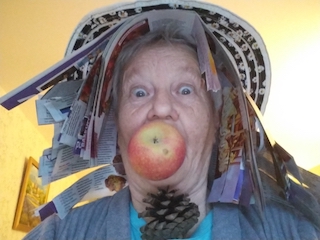 2) Click Here to see some thoughts/messages for the Halloween Season
To see some more please go to the Youth/Sunday School page where you will see what the Zoom Sunday School have been doing over the last couple of weeks
From Iain's Update in the November EKO (and on the Youth Worker page in our 'News' section)
Begin every day with
Love in your heart.
Expect blessings and
Share those blessings with others.
Shine like the sun and
Inspire other people.
Never forget how much
God loves you and is with you.
The Bright Colours of Autumn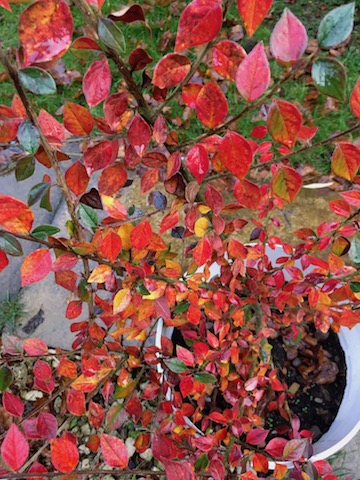 Those pumpkins are quite scary-looking to me, Anne!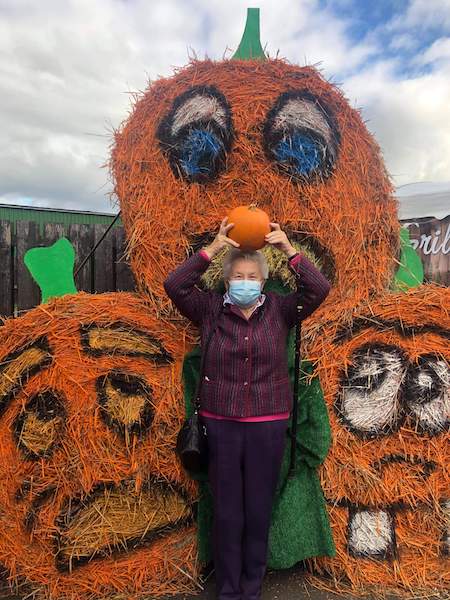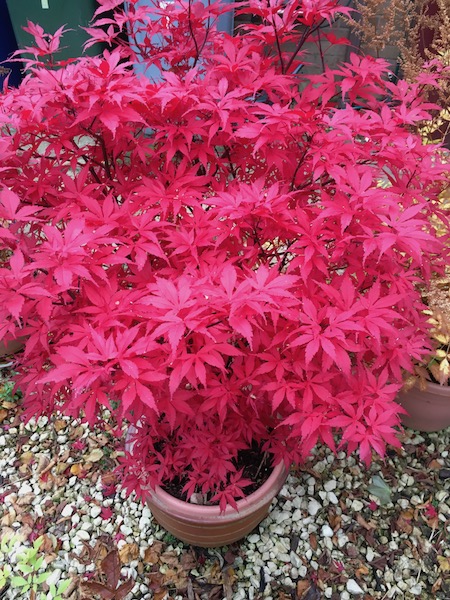 Reading the Window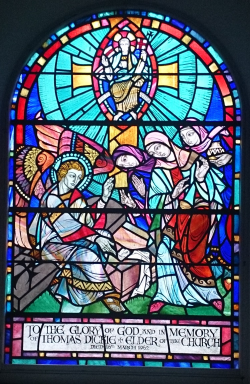 On a Sunday morning, many members of the congregation don't see it at all. But what's in it?  Here are some pointers, to help us "read" the message in the glass.
Our one stained-glass window in the Church has as its theme the Resurrection.  The basic texts in the New Testament are St Matthew 28: 1-10, St Mark 16:1-12, St Luke 24:1-12, St John 20:1-10.
 On the left of the window is a figure clearly meant to be an angel.  St Mark refers to a young man, St Luke refers to 2 young men, St John mentions two angels.  Only St Matthew mentions one angel, so it seems the maker of the window has gone with the Matthew account.  Another clue which confirms that is the fact the angel is sitting down.  St Matthew writes: "..an angel of the Lord came down, rolled the stone away, and sat on it."(28:2)
The stained-glass artist has, however, not portrayed a cave-like tomb, with a circular stone which could be "rolled" away.  Instead, he has shown what is called a sarcophagus – a hollowed- out stone coffin, with a stone lid. In the window, you can see in the very centre the corner of the sarcophagus, with the white linen wrappings hanging over the edge.  The angel is sitting on the lid, which projects down into the bottom left-hand corner of the window, and which has a cross carved on it. The angel's left hand is raised in greeting, reassuring the women, telling them not to be afraid; his right hand is pointing into the empty grave, with the words "he is not here, he has been raised, just as he said".(28:6) 
On the right of the picture stand three women.  The woman on the far right is carrying a jar, with the ointments for anointing the dead body of Jesus (as they expected).  Interestingly, St Matthew doesn't mention the ointment at all. The artist has borrowed that detail from St Mark (16:1). There are variations as to the names of the women who went first to the tomb on that first Easter morning. But all four Gospel writers include Mary Magdalene.
At the top of the window is another symbol – the depiction of Christ in Glory, a traditional position used by artists for the past 2,000 years (see Philippians 2: 6 – 11). In it, the Risen Christ sits enthroned – the earliest Christian creed was "Christ is Lord".  In his left hand, he carries a flag, which is the banner of victory and symbolizes Christ's victory over sin and death.  The right hand of Christ is raised in blessing.  And behind is the sign of the Cross, and the words "He is risen".   
Stewart Smith
More Colourful Delights... (Thanks - keep them coming!)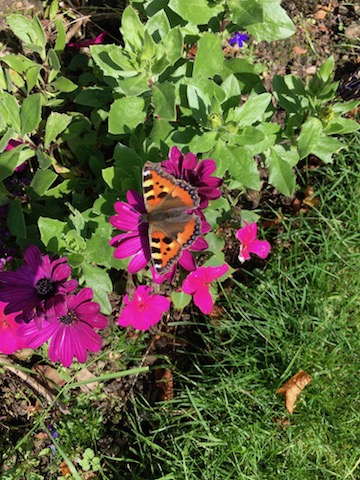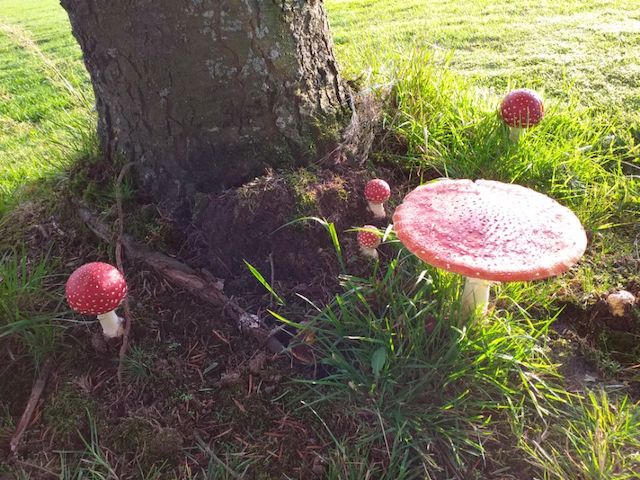 A Splash of Colour to Brighten Your Day!
A passion flower: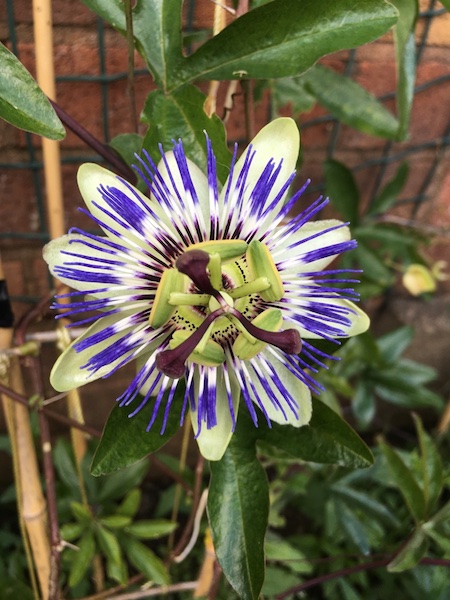 In Christian circles, its name is said to refer to the passion of Jesus:
> the pointed tips of the leaves = the Holy Lance
> the tendrils = the whips used in the flagellation of Christ
> the ten petals and sepals = the 10 apostles, excluding St Peter, who denied and Judas who betrayed
> the flower's radial filaments = the crown of thorns
> the chalice-shaped ovary with its receptacle = a hammer or the Holy Grail
> the 3 stigmas = the 3 nails and the 5 anthers = the 5 wounds (4 by the nails and 1 by the lance)
> the blue and white colours = Heaven and Purity 
> the flower stays open for 3 days, symbolising 3 years of ministry
(Info adapted from Wikipedia)
Do you have any good news stories? Funny snippets? Cartoons? Pretty pictures? Juicy gossip? (only if it's in good taste and ok to print!) Send your contributions to any of the usual contact details or use the 'Contact Us' button.
Now keep scrolling down (or go to the top menu) for our other sections:
Church Welcome and Introduction including: General Information; Location Maps; and 'Contact Us' message facility.
then our
Click-on Boxes:
Worship with Us, including information on Church Services as well as Communion; Accessibility and Extra Support; a 'Newcomers' Guide  
News: Church News; Pastoral Letter; Youth & Families Worker Updates
Photo Gallery
Baptisms, Weddings and Funerals 
Activity Group Pages (Youth and Adults)
Faith Matters
History and Graveyard
NB: Work and Workings of the Church is yet to be opened...
Welcome to East Kilbride Old Parish Church!
Join us for worship on
Sunday Mornings from 11am – 12noon.
We hope you will feel a warmth and friendliness and that your experience of our worship together is enjoyable, meaningful and encouraging. Please also look out for activities you could be a part of during the week – there are lots of opportunities to meet with a friendly crowd! East Kilbride Old prides itself in being known as a welcoming church.
From the church of the past to the church of today…
"This website includes a section on the history of the church and its graveyard because we know may visitors are interested in this. The current building dates back to 1774 (though there has been a church on this site since pre-Reformation times).
When today's church was built, it stood in the midst of a small village. Today it stands in the midst of a large new town with a population of around 75,000 people.
Beautiful as it is however, our church is not the building, but the people. Within that building, there is a warm church family. People of all ages meet together, all striving to reach out to the community we serve in the Village area and East Mains.
We have active organisations for children and adults, giving a wealth of opportunities for fellowship and sharing, and everyone is assured of a warm welcome."