Note: Links to the Church of Scotland website, are at the foot of this page.
EKO Magazine Delivery Change
Unfortunately, the recent restrictions impact on the arrangements for distribution of the EKO church magazine with these now, for the first time, specifically mentioned in the guidance from the national church.
Instead of the usual delivery by Helping Hands, the February magazine will have to be distributed by post. If you still receive a paper copy of the magazine this might be a good time to think about taking an email version instead…
So, if you'd like to save the church some money by switching, please contact Isobel Gray at This email address is being protected from spambots. You need JavaScript enabled to view it.
Note: Delivery by Helping Hands will resume just as soon as the restrictions ease.
2021 New Family Support Group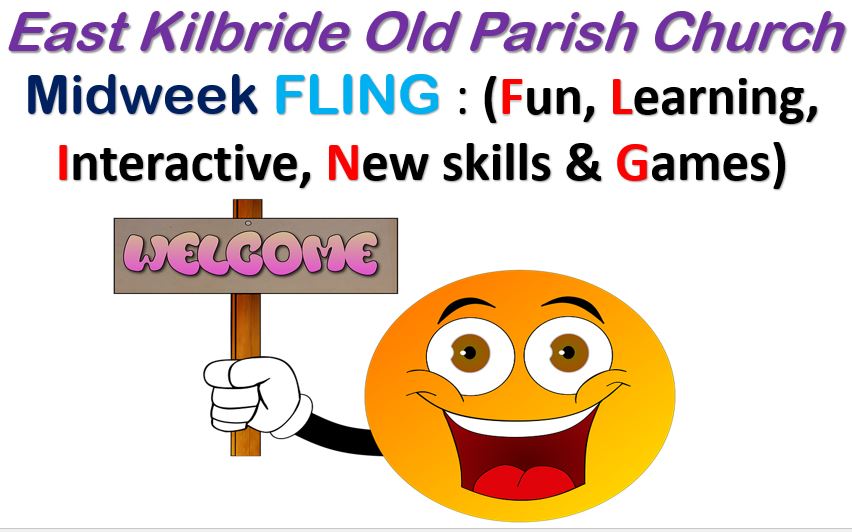 Starting on Wednesday 13th January, we are offering a new Zoom group suitable for families and kids. This will take the form of chat mixed with fun activities. The group will meet at 2pm on Wednesday afternoons throughout the duration of lockdown until schools are physically back for all children again. Please spread the word.
Contact Iain Shaw for joining details on : 07912 295943 or at This email address is being protected from spambots. You need JavaScript enabled to view it.
Iain (Youth & Families Worker)
2021 Church Services
Happy New Year! Please find details of our forthcoming Sunday Services posted in 'Other Special Notices'
Kirk Session
Elders please note: The next meeting of our virtual Kirk Session will be on Wednesday 27th January at 7.30. when there will be several papers circulated for information on some of the steps we are beginning to take in preparation for resumption of church life and activities post-Covid. These will reflect on some of the innovations and changes made over the last year and how these might influence our outreach and our role in the community as we get back up to speed. During 2021 we should also probably start thinking about how we will celebrate the 250th anniversary (Sestercentennial !!) of the church building.
Reminder...
... to read our monthly updates from our Minister, Rev. Anne Paton (found in News/'Pastoral Letter', and also from Iain Shaw, our Youth & Families Worker in News/'Youth & Families Worker'.
Leprosy Mission Sunday – 31st January 2021
For many years, our church has supported the work of the Leprosy Mission, especially on World Leprosy Day, which this year is Sunday 31st January.
Normally we give out Gift Envelopes, which people can return with a donation on any Sunday throughout February. We can't do that this time because the service will be 'virtual'.
If anyone would like to donate, please send a cheque to Des Laverty, 36 Bourtree Road, Hamilton ML3 8PT. IMPORTANT: Make the cheque out to "East Kilbride Old Parish Church" and on the back, write "Leprosy Mission".
If you would rather donate via a Bank Transfer, please phone Des on 07402192610, and he will give you the necessary details.
Blue Tubs
A number of people very kindly have used the Blue Tubs to collect money at home, and when full, they are brought to the Church. I then send the money to TLM Scotland in Stirling. We haven't been able to do that since last March, but if anyone has a Blue Tub and would like its contents sent on, please let me know on EK 226718*.
For more information about leprosy and the great work of the Mission, please Click Here .
(Stewart Smith)
EKO Magazine
Click Here for the January EKO
The deadline for the February edition is Wednesday 27th January. If you cannot email items to David, he is happy for you to dictate them over the phone. His contact details are in the EKO magazine.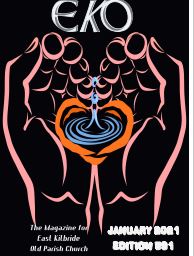 *PS: Wee Red Boxes
The same might well apply to the small Christian Aid Boxes. Depending on the regulations, we can make a suitable arrangement.
Helping Hands
The volunteers are still busy round the parish, here is a picture of some of them picking up the Church Magazine for delivery. Please be sure to read Alistair Walker's 'Thank you to our Helping Hands' piece in the January EKO magazine (see link above).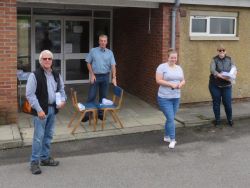 We hope you all had a Merry Christmas!
Sunday 27th December
We shared a service recorded by the Moderator, Rt Rev Dr Martin Fair. This is still available in 'Watch a Service (see top of Home page, turquoise button). Enjoy!
Christmas Eve/Day
We hope you enjoyed our recorded Christmas Eve/Day service, which is still available 'Watch a Service (see top of Home page, turquoise button).
20th December Service (with Nativity Play)
To watch again please click on the 'Watch a Service' button on the Home page.
The Nativity play was a feature of this service on 20th December.
Well done to all out 'actors' and Production Team!
Mary – Tracy
The Shepherdesses – Barbara, Christine & Anne
The (not-so) Wise Men – Scott, Bob & Ronnie
Recording & Technical – Austin
Executive Producer & Jack of All Trades - Iain Shaw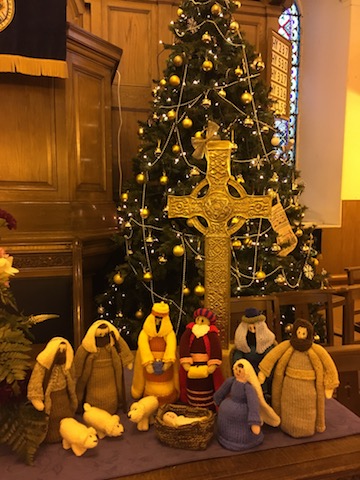 Christingle Service
Old Parish Church Brownie and Sunday School families joined us for our Virtual Christingle Service on Sunday 20th December. Here are some of the pictures: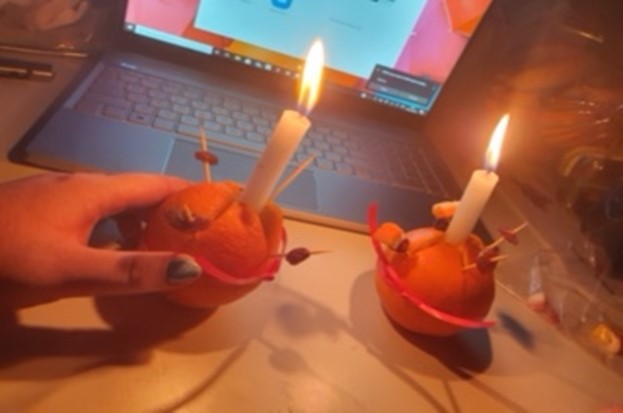 Kirk Life Announcements
Owing to the ongoing situation with COVID 19, and the uncertainty of what is going to happen over the next few months, it is with regret that we have no alternative but to cancel the Burns Supper planned for next year.
On the brighter side, the sum raised from the Church Christmas Card was £1087. Thanks to everyone who contributed. (Ken Ross, Kirk Life Convener).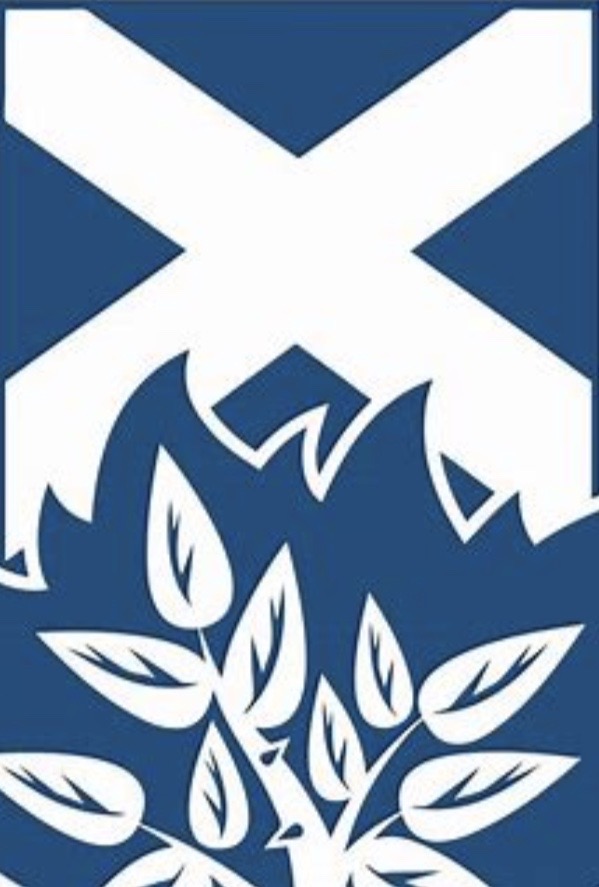 Check out news and events which may be of interest on the Church of Scotland Website:
Click Here for Church of Scotland advice on the virus situation and useful related links.
Click Here for more info on CofS News items.
Click Here for more info on CofS Events.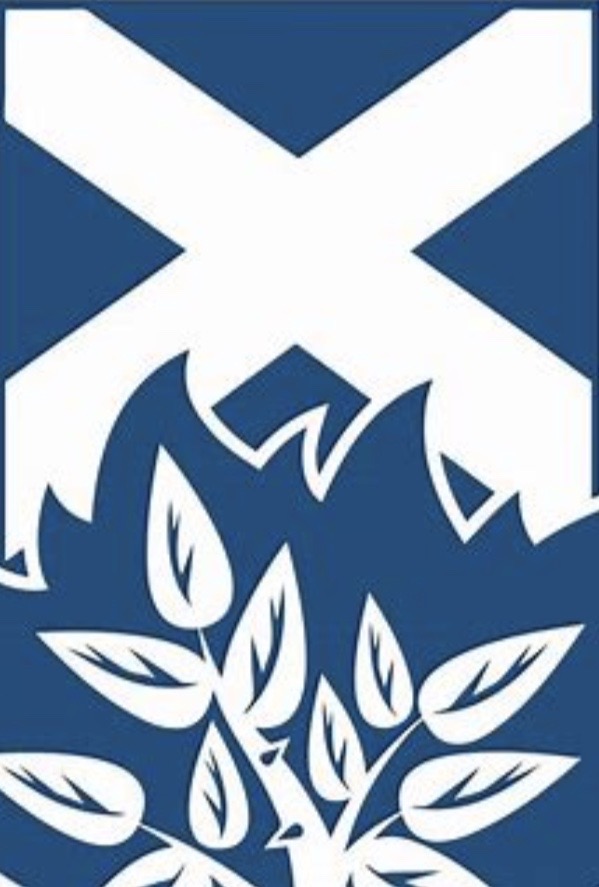 Church of Scotland