Note: Links to the Church of Scotland website, are at the foot of this page.
Church Re-Opening
The Kirk Session has decided that in the first instance the church will open once-a-month basis with the current, popular, arrangements for a recorded service continuing on the other Sundays.
We will of course, still have to observe the limit of 50 members in the church so we plan to make use of our live streaming capability and use our church halls as "over-spill" where the number of members wishing to attend a monthly morning service exceeds the 50 limit. While this would clearly not be the same experience as being in the church, it might be an acceptable substitute in the circumstances.
The first of our monthly services will be on Sunday 11 October when we will celebrate Communion. There will be overspill capacity in both our halls and communion will be celebrated there in addition to within the church. Arrangements been devised to enable this sacrament to be observed in compliance with guidelines. Members watching the service at home may wish to make their own preparations to join in celebrating Communion. Further monthly services will be held in November and December.
As with the trial service we will be obliged to record details of members attending so if you intend to come to the service on the 11th please give advance notice to Louise on 01355 279004 or by email at This email address is being protected from spambots. You need JavaScript enabled to view it. If you have any mobility issues please let us know and we will endeavour to provide appropriate seating arrangements.
Our Harvest Thanksgiving
The month of October brings us to our Harvest Thanksgiving. This year, it will be very different in style, but not in content. Despite all the restrictions, we will still want to give thanks, and on October 18th, that will be a focus for the Church service.
In last month's EKO, there was an article about our Harvest Offering. As in past years, the hope is that we can send our gifts to two areas of service – to "Loaves and Fishes" and their Foodbank in East Kilbride and to Christian Aid in its world-wide work.
You can find out more about both these organisations on the internet, if you have access to a computer. Loaves and Fishes is at www.loavesandfishesek.com, and Christian Aid is at www.christianaid.org.uk.
If you wish to contribute you can send a cheque to Des Laverty, our Finance and Gift Aid Convener, at
36 Bourtree Road, Hamilton ML3 8PT.
Make the cheque out to East Kilbride Old Parish Church and mark it on the back "Harvest Offering". Donations can be sent to Des any time through the month of October. The total will then be divided between the two charities – the local and the global – and we can report on our Harvest gift in a later issue of EKO.
Christmas Card Scheme
The closing date for adding names to the card is 16 October. If you want to be included on this year's card please send your names to Louise at the church office at This email address is being protected from spambots. You need JavaScript enabled to view it. or by phone on 01355 279004.
Donations can be made by either bank transfer or by cheque. For bank transfer Des Laverty (01698 422638) will give you the account details. Cheques should be made payable to East Kilbride Old Parish Church and forwarded to Des at 36 Bourtree Road, Hamilton ML3 8PT. Please make sure that your donation is identified as being for the Christmas card.
General Assembly in October 2020 to be Online
This year the Church of Scotland will take an unprecedented step when - amid the restrictions of the Covid-19 pandemic - the 2020 General Assembly will convene remotely during the evening of Friday 2 October and all day on Saturday 3 October.
Only a small number of people will be in the Assembly Hall: those running the proceedings, those reporting to the Assembly and those livestreaming and recording the event.
Everyone is invited - wherever they are – to join in and watch the livestream on the Church of Scotland website or Facebook page. The Friday session will run from 7pm to around 9pm and the Saturday session will run from 9.15am to approximately 5pm. On Saturday there will be coffee and lunch breaks.
For more on this use the link to 'CofS News items' at the foot of this page.
Kirk Session
Our first-ever virtual Kirk Session meeting was held on Thursday 11 June at 7.30pm using Zoom and was considered a successful experience, and thirty people attended. We are used to it now, and last 'met' on 23rd September.
The Guild Annual Gathering 2020
On the Guild page, and also on Other Special Notices on the Home page, we have given a link to a video of the Guild Annual Gathering 2020 - a digital event. Themed around 'the extra mile', members are able to take part from the safety of their own homes, via the internet. Iain Whyte, general secretary of the Guild, said: "We were delighted to have [also] sent out hundreds of DVDs and USB sticks to those without internet access in the run up so that hopefully everyone who wanted to was able to take part.
"It was very cheering to hear about small groups of Guild members who were planning to meet and watch the Annual Gathering together whilst still following the government's guidelines."
Note: More details can be found on the pages mentioned above.
New Time for Online Sunday School
Our Online Sunday School now meets at 9.30am - 10.15am. Please join us! See 'Our Response in Challenging Times' on the Home page for more details.
To open the October EKO Click Here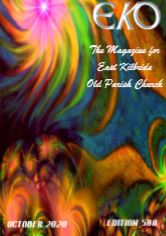 Our Probationary OLM Moves Onwards and Upwards
Fiona Anderson, our 'Probationary Ordained Local Minister' (which is effectively the 'old' auxiliary, or part-time, Minister role), has qualified and moves on to Strathaven Trinity Church this week. Her photo appears in our 'Other Special Notices' section on the Home page.
During our live broadcast service on 30th August (see item below), she was presented with a painting of the Old Parish Church to remind her of her time here. Her husband and son were in the congregation as she spoke about her 'journey' to reach us, and her experience with us, which she has greatly appreciated. And we, in turn, greatly appreciated her! Well done, Fiona, and all the best in your future career!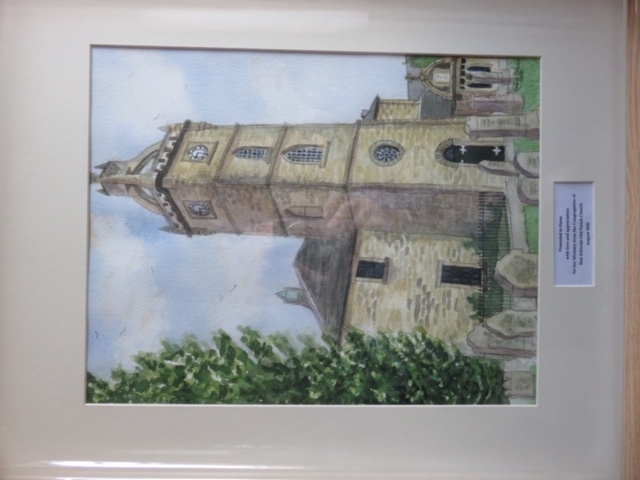 The dedication reads: Presented to Fiona, with love and appreciation for her Ministry from the Congregation of East Kilbride Old Parish Church, August 2020
Sunday Service Video Becomes LIVE Broadcast!
Sunday 30th August saw a new development: we trialled our first live broadcast of the Sunday service at 11am from the church. Despite a hiccup or two, it went well, and we learnerd a lot. See the top of the Home page or 'Our Response' for a link to the Youtube recording. We plan to make recordings (CD, DVD, USB stick and Dial-a-Service) available as soon as possible.
We have now returned to the usual style of video production while we discuss and debate this new facility - decisions to be made at Kirk Session on 23rd September.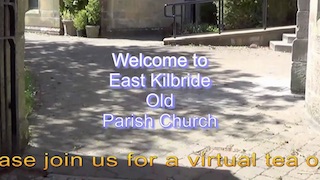 The latest Sunday Service video is now available by clicking a link on our website (see above) and on Facebook www.facebook.com/ekopc
Audio
The audio version will soon be available if you click the 'Listen to a Service' button under the video, and also on Dial-a-Service (phone access to the audio recording).
Please get in touch with your elder or Alistair Walker if you would like to know more about Dial-a-Service for a friend or relative in the church who does not have access to the internet, DVD or CD player (NB: we can also supply those formats if you wish, and USB sticks for smart TVs).
Previous Weeks' Videos
When each new video is loaded as above, those from previous weeks will still be available if you click on the 'Watch a Service' button on our Home page - not yet in date order though, sorry.
Changes are Coming - Slowly(copied from the August EKO)
As we see changes taking place around us, whether it's enjoying more time with family and friends, returning to a favourite restaurant or that long overdue visit to the hairdresser, the conversation in our church invariably turns to discussion about when we will be re-opening and getting back to "normal".
The honest answer is "not any time soon". The responsibility for deciding on re-opening lies fairly and squarely with the Kirk Session. Not the Government, not our national head office in Edinburgh and not Hamilton Presbytery, but with the Minister and elders of our own Kirk Session who alone can decide when it is safe to re-open for public worship.
There are many reasons why the Kirk Session is taking a cautious approach to re-opening: The legal requirements to maintain a safe environment for our congregation include all the aspects of 2metre social distancing, face coverings, hand hygiene and contact tracing that we have become familiar with in other settings such as shopping and socialising. Coupled with the limit of a maximum number of 50 in the congregation, the balcony being "out of bounds", a ban on hymn singing and a prohibition on using Orders of Service these all add up to very significant changes in our arrangements. For example, as all of us who know the layout of our church very well will understand that maintaining a 2-metre distance between the congregation in our pews will be quite challenging. A church service wearing face coverings and without hymn singing will also be an uncomfortable experience for all of us.
On re-opening, we are likely to need significantly more elders and volunteers to manage the safe entry and seating of the congregation so one area we're currently working on is the expansion of our Door Duty teams and this too will be essential before we decide on a re-opening date. Once we do re-open, our expectation is that, after a few Sundays, a capacity limit of 50 in the church will be insufficient, so we've been working to develop options for an "overflow" in our halls. We intend to provide additional safe seating in our church halls to enable the congregation to view and hear the service broadcast live on a large screen and to participate in the morning service communally albeit in a different building. This will also mean that members of the congregation with internet access will be able to view the live service on their own tablets, phones, or PCs at home.
We intend to continue development of these arrangements during August and to test all aspects of them in a "practice" service with a small number of volunteers towards the end of the month. We will then be able to reflect on the new procedures, make any necessary changes, and then make an informed decision on the timescale for a full re-opening of our church for regular services.
Our weekly half-hour video services on Sundays have proved very popular and these will continue in the meantime as will our "virtual" coffee mornings on Thursdays and Sundays and all the other arrangements to support church life through the different phases of these extraordinary times.
Alistair Walker, Session Clerk))
Presentations from the Kirk Session on behalf of the Members and Kirk Session
At the recent Kirk Session Angus McConnel received a presentation/gift from the Kirk Session : in reocognition of 60 years of service as an Elder within East Kilbride Old Parish.
Jim Ballantyne also received a Watercolour of the Church as a token of the service he has provided as Session Clerk for the last 6 and a half years.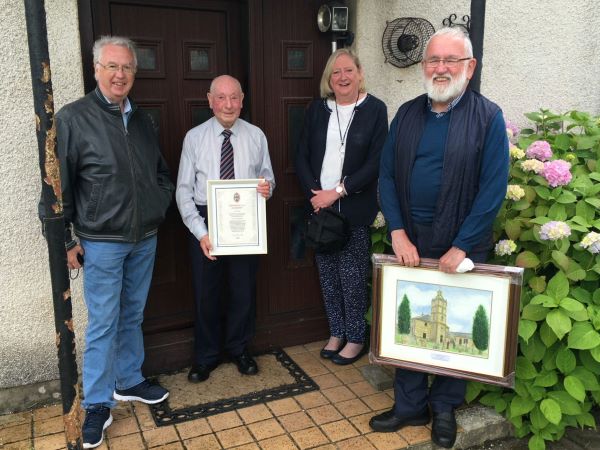 Helping Hands
The volunteers are still busy round the parish, here is a picture of some of them picking up the Church Magazine for delivery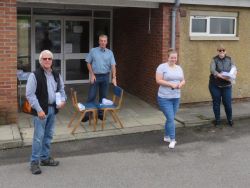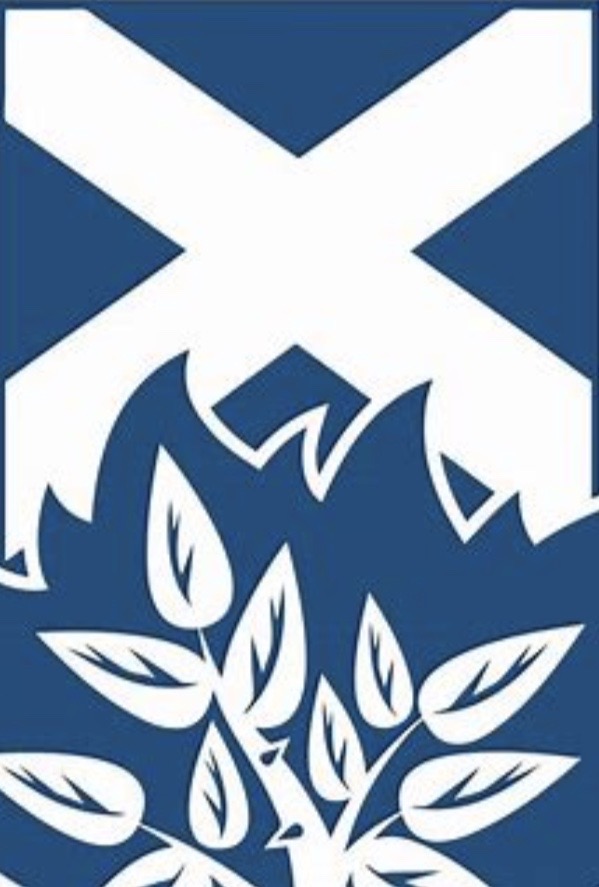 Check out news and events which may be of interest on the Church of Scotland Website:
Click Here for Church of Scotland advice on the virus situation and useful related links.
Click Here for more info on CofS News items.
Click Here for more info on CofS Events.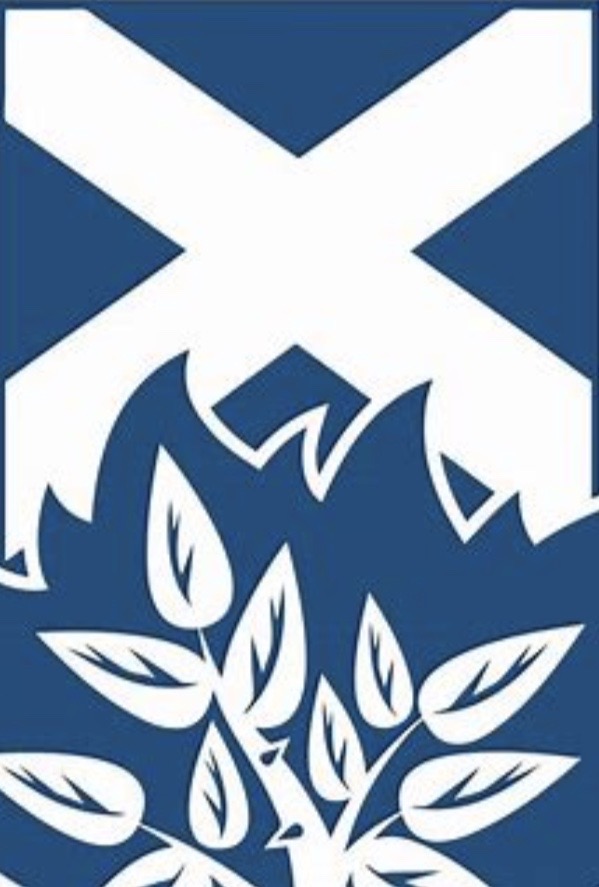 Church of Scotland