Welcome to 'News'
Selected items of News from the Church of Scotland website are found at the foot of our News page.
Graduations
Congratulations! Both Hazel Shaw, Probationer Candidate for Ministry (see profile below), and Fiona Anderson, our former OLM, graduated on Friday 1st July. Well don, both of you!
Visitors from Ukraine
At our service on 26th June we were privileged to be able to welcome visitors from Ukraine, and there was a spontaneous burst of applause from the congregation. Their children had a great time ringing the church bell before attending our Sunday School!
Annual Business Meeting
The Annual Business Meeting was held immediately after the service on Sunday 26th June, to explain about finances and our church life together. A short meeting was promised!
Donation to Loaves & Fishes
At the all-age service on Sunday, 19th June, a cheque was handed over by the Sunday School (from their weekly collection) to go to 'Loaves & Fishes', their chosen charity. It will be added to money which has been collected from the congregation, also on a weekly basis, in tins at the church door.
Every donation, large or small will be much appreciated by 'Loaves and Fishes', as the charity has been described in a front page article in the current issue of our local newspaper, EK News, as being 'at crisis point'.
Norma Penman, who received the cheque, said she would deliver it to the charity this week, along with the food donations we have collected at the church door. (Our Community Link group has so far been able to fill 60 bags with food shopping from these donations).
Multicultural Lunch – 1st July
Our local Community Police Officer, Constable Thom Alexander, arranged an event for 1st July between 10am and 2pm in Unit 37 of the Princes Mall (near the bus station) to help bring together some of the asylum seekers currently housed in the town with our local community. Members from each nationality prepared a local dish from their own country placed in front of the flag of their nation with free samples for everyone who came along. Some Scottish fare of haggis, neeps and tatties washed down with Irn Bru was also available !
It is hoped that this will help asylum seekers feel included and part of the community, dispel apprehensions within the community, and support the involvement of the different agencies which help those seeking asylum. As an added inducement Thom's mum offered to provide samples of her signature tablet ! We Scots have a reputations as a diverse, welcoming and inclusive nation so this was an opportunity to demonstrate this publicly.
Schoolchildren Tour Church and Graveyard
Recently a group of local schoolchildren came to visit our church and were hosted by Session Clerk, Alistair Walker, Jim Ballantyne (Property) and Fiona Dawson (one of our elders, and member of the 'East Kilbride Village Graveyard Research Group', which many of us know informally as 'The Graveyard Group'. Alistair showed the group around, upstairs and down, pointing out things of interest and giving them lots of information, including telling them about the 250th anniversary of the church building in 2024.
Fiona then guided the children around the graveyard and told them about a recent discovery: Thanks to their work, the EK Village Graveyard Research Group now know that the oldest gravestone is that recording John Warnock 1703 (Lair 448 - a flat stone). Previously, the oldest readable gravestone dated from 1712 - an upright stone. (We have now updated our website's History page).
The tour also touched on the history of East Kilbride's old families who were served by the church, and occupations such as farming and weaving. (We can see links to many of them in the present day in many of our building, street and district names, such as: Hunter Street, Health Centre and High School, The Torrance Hotel, Weavers Court, Stuart Street, Parkhall Street and Graham Avenue).
One child asked about graverobbers, but Fiona assured them that there was no record of a problem in our graveyard, because elders would keep guard in a 'hide' which is still visible beside the gate on West Mains Road.
If you are interested in knowing more about the history of our church and graveyard, do visit our website's 'History' page, and look out for guided tours,
eg for 'Doors Open Day' in September.
Click Here
to view / download last term's schedule of

regular

activities
.
We intend to put updated information for the summer on the Notices page as soon as we can verify it.
Visit by Former 'Interns' from America
In 1991, we received two interns (like probationers) from an American seminary into our church, called Martha and Chris. On Pentecost Sunday, they decided to visit us again for their 30th wedding anniversary, and were invited by Anne to introduce themselves to the congregation. One daughter, Fiona, was in the church with them, and the other, Miriam, is to join them tomorrow. They gave us an idea of their career paths since returning to America, and
Chris shared with us memories of being part of a youth activity making helicopters which were floated down from the balcony to represent the Pentecostal 'tongues of fire'. He also remembers standing in the pulpit, wearing a kilt, and a sweater knitted by Nan Coltart, in tears because it was their 'send-off'.
The couple, who are from Atlanta, Georgia,
also

brought greetings also from other interns with whom they still have contact (but who weren't aware they were here, apparently!): Douglas and Kathy, Holly and Heather, and Mindy. If you've been a member of our church for 30years, you may well remember them!
'Messy Church Street Party' celebrated the Queen's Platinum Jubilee
This was an event for all the church family in Glebe St Hall - with food, games, dancing, music, arts & crafts, sports and much more. People brought bring their own picnic lunch while tea, coffee, juice and cake were provided.
Here's a pic of Anne Stewart and her great-granddaughter at the event. Why not share a photo of your day too? Get in touch with Christine B. using 'Contact Us' or at

This email address is being protected from spambots. You need JavaScript enabled to view it.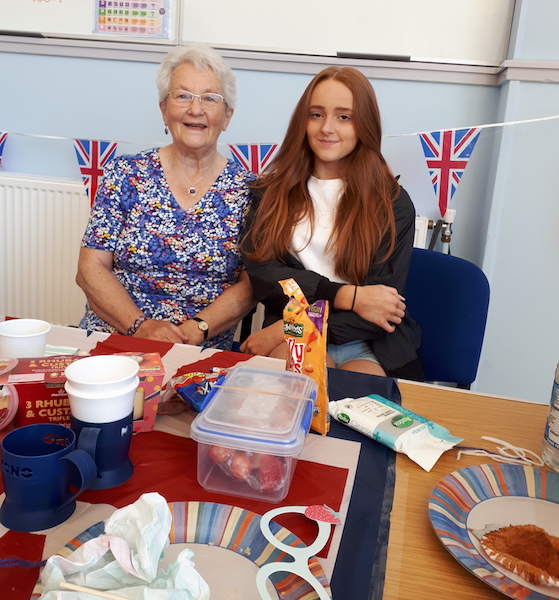 A great day was had by all. Thanks to everyone who worked so hard to make it a great day!
The Angus McConnell Memorial Football Tournament
The 2nd Angus McConnell Memorial Community 7 a side football tournament took place on Sunday afternoon 22nd May 2022 from 2-5pm in Kirktonholme Park.
It was a great success and thankfully it remained dry for the football which was a miracle in itself as heavy rain preceded and proceeded the event. It was very well supported by other Churches, parents, families and members of our own congregation. We had 6 teams participate (Cambuslang, Claremont, St Brides, Trinity (Strathaven), St Mary's Motherwell and ourselves) with around 75 primary school aged boys and girls having fun, playing together in a fair but competitive spirit and doing something to improve both their fitness and mental health – playing outside in the fresh air!!
We had 12 players in our team and they all played an equal amount of time on the pitch as we had rolling substitutes. We came in 4th position with 9 points with St Brides/St Kenneth's winning the competition for the second year in a row with 15 points.
At the end of the day, I hope we did Angus and his family proud and I am already planning and looking forward to next year's tournament. Iain Shaw
Meet Hazel Shaw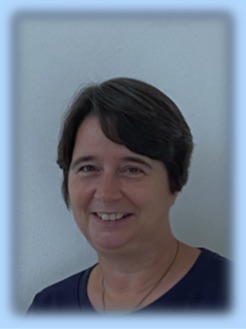 Hello everyone,
I hope and pray you are all well. It is a great privilege to introduce myself to you as your soon to be Probationer candidate for ministry. Many of you will already have met me and know me as the other half to Iain Shaw, your Children, Youth and Families Worker. I am very much looking forward to being part of your congregation, sharing in worship, learning from Anne and seeing how God continues to lead me in ministry.
For those who I haven't yet had the pleasure to meet, my name is Hazel and with Iain and our son Mark we live in Strathaven and have a black cockapoo called Alfie who is 5 years old but still has the energy of a puppy! Our daughter Laura is 23 and lives and works in Hereford as a secondary school teacher. Any holidays are generally spent visiting her. Mark has now completed his school education and is about to embark on further college studies with the long term goal of joining the Police Force. I am a Candidate for Ministry and have recently successfully completed my BA Theology degree at the Highland Theological College in Paisley. I will graduate on 30th June this year and am delighted to have completed my academic studies for now.
I have completed two previous placements with the Church of Scotland, the first in South Parish church in East Kilbride and most recently in St Mary's Parish Church in Motherwell. Both these placements were wonderful experiences and I loved every moment, learning and getting to know members and those in the wider community. I am excited to be joining you all on the 1st of August to begin the final stage of my journey to ministry before ordination.
I am very grateful and excited about all that God has in store for me on this journey and look forward to seeing how I can continue to serve Him. There are many changes in the church just now and having a previous background in change management I am both aware of the challenges and excited by the opportunities. God's plans are greater than anything we can imagine and He calls us to action and to do our part. I hope in many ways I, together with all of you, can be part of an exciting and fulfilling plan for the Churches in East Kilbride.
I look forward to meeting you all and wish you every blessing, Yours in Christ, Hazel Shaw
Once again, East Kilbride Old Parish Church has responded splendidly to the appeals of Christian Aid Week. We've had three main areas of fundraising, and all of them have been very worthwhile.
First of all, our regular CHRISTIAN AID COFFEE MORNING. This was held in the Glebe Street Hall on Thursday 19th May. It was a lovely morning, and there were all kinds of stalls – jewellery, home baking, books, plants, bric-a- brac, and the wonderful smell of freshly-baked pancakes filled the hall. There was a good attendance of people and a great total - £500 .50. (The equivalent figure in May 2019, the last time we had a Christian Aid Coffee Morning, was £218). Well done, all the Stall holders and donors, and a very special thankyou to Evelyn Brownlie and her amazing team of helpers.
Next, the new "MY MARATHON" GROUPS. Since the advent of Covid, as we know, it has not been possible to do our normal "House-to-House" Collection, so last year, we tried a new project – doing a sponsored walk with donations being made online, through a "Just Giving" page (see the link further down the page). That proved successful, so this year, FIVE groups took part in a personal challenge called "My Marathon". The walkers were Alistair and Val Walker, David and Lyn Kent, Andrew Brown and Family, Iain Shaw and Friends, and members of the Church Choir – Christine Tweedie, Isobel Glasgow, Fiona Anderson, Gillian Morris and Mary Smith. Together they've covered a huge distance and raised the superb total of £2,055. And there's also Gift Aid to be added to that. So, very well done, everyone.
Then there are all the DONATIONS, made either through the Christian Aid Envelopes handed in at the Church, or sent directly to Des Laverty, our Congregational Treasurer, or given through the Christian Aid Boxes which people hand in regularly throughout the year. These donations have come to the excellent total of £1,780. This figure includes £62.50 which Des has claimed through Gift Aid. An additional figure of £112.50 will be claimed by Christian Aid from the Gift Aid slips from our Envelope donations. And the "My Marathon" Groups will have gathered a substantial amount of Gift Aid which Just Giving will process and pass on to Christian Aid directly.
All of these elements together give us a global figure of £4,448.15. That is a wonderful result and warmest thanks to everyone involved, including Diana Ramsey who decorated the Lounge Window with a Christian Aid Week display. Christian Aid is one avenue through which our Christian Faith is demonstrated and it's good that we can show the love of Jesus in straightforward actions of personal help. Stewart Smith
The 'New Normal'
I think that for most of us, in the initial stages of the pandemic, as the restrictions meant that nearly all the activities and social events in the church ceased, we began to wonder if and when things might get back to "normal". Then, as the pandemic stretched out to months and then years, we started to think that maybe we would emerge to a "new normal".
The recent Kirk Session meeting reflected on some of the changes we made during the pandemic and whether some of them might be continued for a longer period. Members will all know that once services resumed we were still very constrained by mandatory requirements for social distancing, face coverings and hygiene so we adapted our arrangements for Communion services to cope with these requirements. We devised a simpler arrangement with the Minister alone at the Communion table and the individual elements being set out in advance at individual seats for the congregation thus avoiding passing bread and wine hand-to-hand along the pews.
The Session reflected that these arrangements had worked quite well and that there was no theological barrier to continuing to serve Communion in this way. The Session also considered that some members may still feel uncomfortable if we immediately resumed the passing of elements hand-to- hand. The Session has therefore decided to retain this simpler style of Communion service, and this will be the arrangement for our June Communion and subsequent services.
Session has also agreed that since the easing of mandatory hygiene requirements from morning service in late March there had been no noticeable problems or issues with the congregation now permitted to use personal judgement on the matters of face coverings and social distancing. The area set aside in the west transept for members wishing to maintain social distancing, and the marking of these pews, will however be retained in the meantime.
Looking further ahead, the Session was updated on proposals for a programme of events planned to celebrate the 250th anniversary of our sanctuary in just over a year and a half. The aim will be to involve all of the church organisations and invitations to participate have now been sent out every one of our groups. Alistair Walker—Session Clerk
Presbytery Mission Planning
Here is a shortened version from Session Clerk, Alistair Walker's article in March EKO. We recommend you read it in full.
The new enlarged Presbytery, the Presbytery of Forth Valley and Clydesdale, has decided that the decision made by the previous Hamilton Presbytery to reduce the number of ministerial posts in East Kilbride from 9 to 6 will be set aside and that a new Mission Planning Team will take responsibility for the task of shaping our church to enable the mission of God to flourish.
That does not mean that there will not be a reduction in the number of ministerial posts in East Kilbride. The church nationally remains committed to a reduction of 40% in the number of ministers so the likelihood of significant change to the current 9 churches in East Kilbride is still very much alive...
The Presbytery Mission Planning Team recently sent our Kirk Session a detailed questionnaire which is intended to allow Kirk Sessions to contribute to the Mission Planning process. It asks for extensive information about our church, details of the community we serve, our role within the community and how we engage in the mission of God in our area.
In due course, the Mission Planning Team will arrange face-to-face meetings with representatives of groups of local congregations with the aim of preparing an overall re-structuring plan by the summer, with Presbytery approval by the end of this year.
Your prayers and support will be much appreciated at this time.
From the Church of Scotland website 'News' pages:
General Assembly 21st-26th May 2022
Click Here to go to the Church of Scotland's General Assembly 2022 page where, as well as news, there is a link to watch the proceedings live.
The New Moderator for 2022-23
Click Here to read more about the new Moderator, Rev. Iain Greenshields, and to watch his installation.
A Selection of Other News
Click Here to go to the Church of Scotland website News page where you can read more on the following selection of headlines and article summaries, and more:
Dean of the Chapel Royal in Scotland pays tribute to the Queen on 70th anniversary of her coronation
London church magazine extracts on death of King George VI and accession of Queen Elizabeth II
Scottish Parliament welcomes 'deeply significant' friendship agreement between Kirk and the Catholic Church
Challenges and new opportunities await the Church of Scotland
General assembly backs call to support ministers living in fuel poverty

(21/5)
Queen applauds role of Kirk congregations in 'welcoming the stranger'

(21/5)
Royal representative Lord Hodge commends Kirk's commitment to truthfulness

(21/5)
Moderator visits Ukraine to learn how the Kirk is helping support civilians

(19/5)
Scottish faith leaders call on Christians to join Thy Kingdom Come

(18/5)
Historic Declaration
The General Assembly of the Church of Scotland will be invited to welcome an historic Declaration of Friendship with the Catholic Church in Scotland that offers 'a decisive and irrevocable statement of our friendship with one another, based on our shared faith in Christ.' (28th April)
The culmination of more than 100 years of ecumenical relationship building between the two Churches, the Declaration of Friendship will be presented to the General Assembly on Monday the 23rd of May.
It has already been approved by the Bishops Conference of the Catholic Church in Scotland.
Majority of presbyteries in favour of conducting same-sex marriages

The majority of Church of Scotland presbyteries are in favour of allowing ministers of Word and Sacrament and deacons to marry same-sex couples if they wish. A report to the 2022 General Assembly shows that 29 of them approved the "Solemnisation of Same Sex Marriage Overture" with 12 voting against.
Presbytery of the Forth Valley and Clydesdale appoints its first clerk (8 March 2022)
The newly established Presbytery of Forth Valley and Clydesdale has appointed its first clerk.
Rev Julie Rennick said she is "delighted" to have been invited to take up the position as part of a move to reshape the Church's structure and make it more suited to the needs of the 21st century.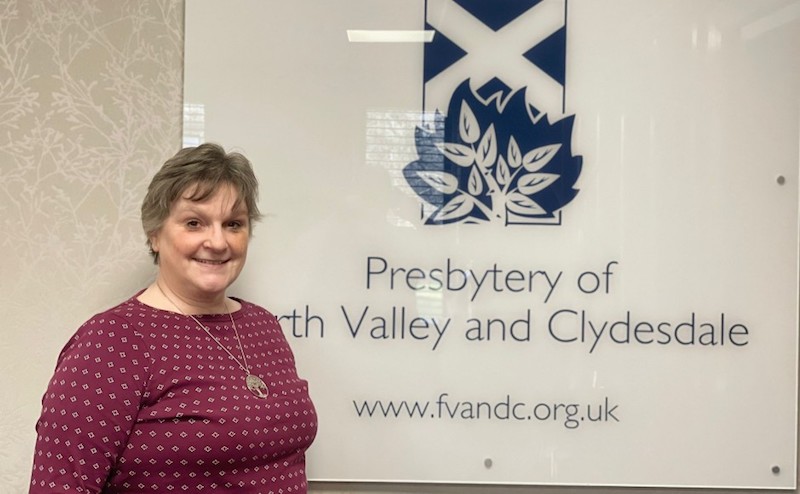 The new presbytery is currently made up of the former Hamilton and Lanark presbyteries and it is anticipated that the General Assembly will approve a proposal to have Falkirk Presbytery formally join the grouping on the 31st of May.
Mrs Rennick is currently the minister at Larbert West Parish Church and clerk to the Presbytery of Falkirk.
She is expected to take up her new role in mid-May, initially as associate clerk and presbyters attending the presbytery gathering on the 19th June will be invited to appoint her as clerk when she will subsequently take the oath de fideli.
Lord Hodge appointed Lord High Commissioner to the General Assembly (28 February 2022)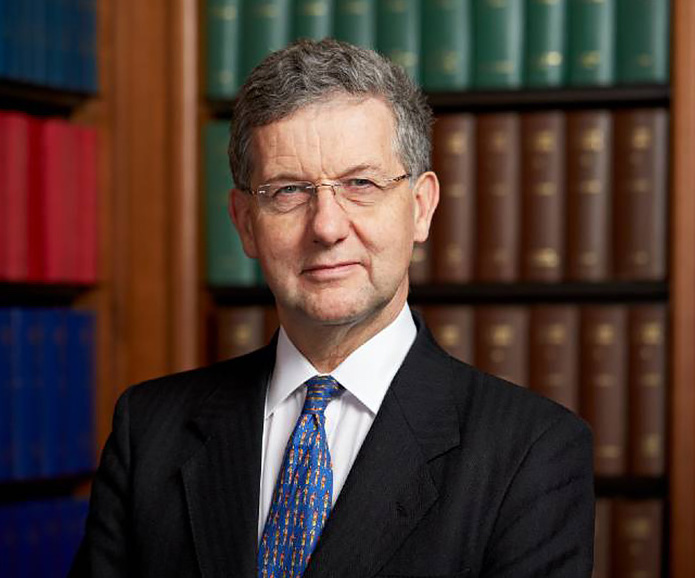 The Deputy President of the Supreme Court of the United Kingdom has been appointed Lord High Commissioner to the 2022 General Assembly of the Church of Scotland.
Rt Hon Lord Hodge (seen in the photo above) said he is "delighted and honoured" to have been chosen by Her Majesty The Queen as her personal representative at the annual event.
News of Church of Scotland Moderator-Delegate 2022-23
Rev Iain Greenshields is our new Moderator of the General Assembly of the Church of Scotland.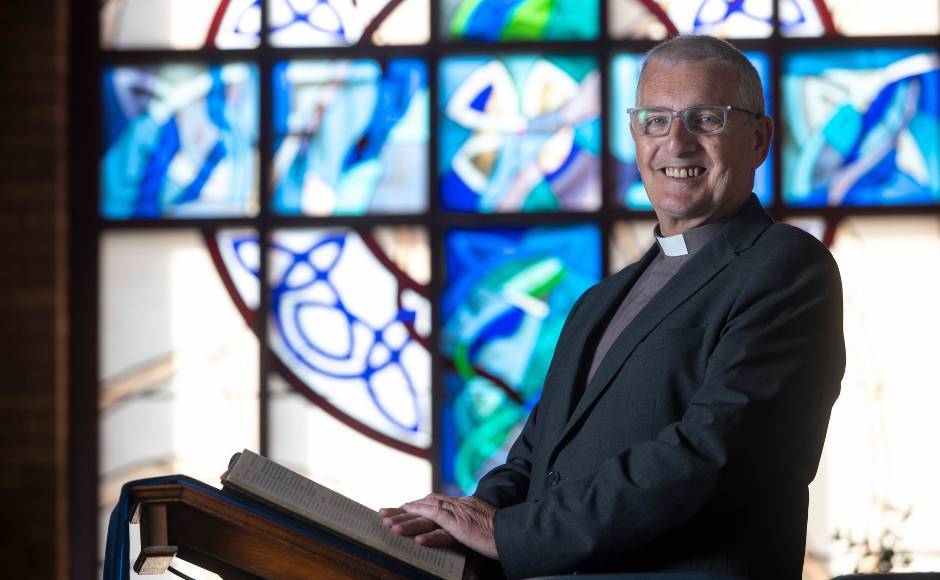 Click Here to read more about Rev. Iain Greenshields in a Church of Scotland News article.
For more news from the Church of Scotland website Click Here