East Kilbride
Old Parish
Church
Our Space - Brownies



May '19
As I write we are busy preparing to go on pack holiday from Fri 24th - Sun 26th May, 16 girls and 7 leaders. This will be our 7th visit to Gowanpark with girls and leaders all agreeing it is one of our favourite spots, so hope the sun shines on us. I can't tell you this year's theme as the girls don't know. All will be revealed in September magazine along with some pictures. So what have we been up to since we last caught up?
This year we have been getting to grips with the new training programmes, interest badges, skill builders etc. but we have still managed to squeeze in lots of fun.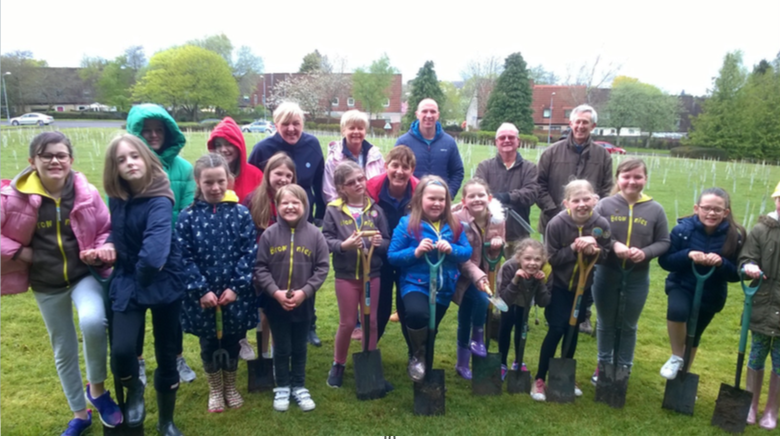 This term we are trying to get outside planting the garden at the Glebe St Hall. We teamed up with EK Rotary planting a new woodland at Ballerup, 1918 trees marking the end of the 1st World War. We planted 40 trees and all monies raised went to the Poppy Appeal - great thing to do supporting the community and environment.
Last Tuesday we had our annual sports night, very competitive and I'm only talking about the adults. On Tuesday 28th May we are going on a penny hike around the village.
We finish on Tuesday 4th June with our BIG BROWNIE ICE OFF - a competition involving cake decoration, that's all I can tell you at the moment - more pictures later.
Christine Tweedie- Brown Owl
December '18

So what have we been up to since our last update?
In preparation for making their promise our new Brownies planted the garden at the Glebe St Hall and filled the planters at the front door with pansies and violas, we hope you like it. They came up with their own design and we hope you can see what it represents. The girls also planted hyacinth bulbs that will flower for Christmas. Over the next few weeks the girls will be making items to decorate the church window and rehearsing to go singing to the residents at McKillop Gardens.
Shoebox Appeal 2018
This year the response to the appeal was exceptional and we thank everyone for their continued support. At the 'donations coffee morning', in addition to the goods donated, we received money donations of £383.83 to assist with transportation. The final totals were 180 boxes packed and £650.00 to assist with transport. A huge thank you has to go to our marvellous team of ladies who wrapped boxes and assisted with checking. You know who you are and we couldn't do this without you. So thank you Church Family for your continued support and know that it will bring smiles to people this Christmas.
Christine Tweedie Brown Owl

October '18

What's happening? I am pleased to confirm that all our Guiding Units are back up and running. Twelve Rainbows have moved to the Brownies and eleven Brownies moved to the Guides. So we are full once again! We are busy getting to grips with the new Guiding programme although it starts officially in September 2019. Our new Brownies have started work to prepare them for making their promise in approximately 6 weeks time. As part of the programme, the girls will be planting out the garden at the Glebe St. Hall with winter pansies, we hope you like them.
Shoe Box Appeal 2018 At the beginning of November we will be hosting a Shoe Box Coffee Morning to receive donations for this year's appeal.
Once again we are looking for your support for this very worthwhile cause. This month's magazine contains a copy of the shopping list for this year's appeal. All donations, large or small, will be gratefully received. You don't need to fill a complete box although that would be appreciated. If you bring your donations to the Coffee Morning on Sat 3rd Nov at the Glebe St Hall, all the Guiding Units will enjoy packing the boxes. If you would like items collected or you have any other questions please get in touch.
Christine Tweedie Brown Owl
September '18 - Brown Owl's general update
After a very well deserved holiday for all our leaders, our Guiding Units started back on Tuesday 4th September. Our different units cover girls from the ages of 5 to 14, but with regret our group for older girls has been closed. A huge 'thank you' goes to Angela and Dorothy for looking after this section for so long and the wonderful things they accomplished.
The girls finished last term with our annual summer camp to Gowanpark from Friday 1st - Sunday 3rd June and despite mixed weather we had a fab time. One of the highlights was stone painting and some of our art work is below. On Tues 5th June our final night we had a European Games complete with flags, banners, medals - the whole works! I have to say, the parents and other family members who joined our teams were extremely competitive but excellent fun was had by all.
Lots of good things planned for the new term but we will share more with you all next month.

As I write (3rd week August), our Brownie and Guide Units are full, but we do have spaces in our Rainbows for girls aged 5-7. Contact Lorraine Kerr!
Christine Tweedie Brown Owl

May

10th March Afternoon Tea total raised £635.79!
We would like to say a HUGE 'Thank You Church Family' for supporting this event. The girls worked so hard on the day in addition to making all the lovely hanging decorations (picture to follow). It was just a lovely afternoon. The money raised will be used for our sleepover to the Sea Life Centre, Loch Lomond on Sat 12th May which will cover the cost of our bus and buy the girls dinner. This is a joint outing with our Rainbows. Not sure who is more excited, the leaders or the girls, about sleeping with the fish, so look out for the next update.
April
: we had our Easter 'eggstravaganza', decorated egg and egg hunt in the church garden. As you can see from the pictures it was difficult to pick just 3 winners they were all fab. We also had some 'eggstra' special games. Lucky these were made of plastic because we would be eating lots of scrambled eggs.
May:
in addition to the Sea Life sleepover, we have some other outings planned but I don't want to spoil the element of surprise, so details to follow next time.
June:
sixteen girls and leaders are going to the annual pack holiday to Gowanpark from Fri 1st - Sun 3rd June.
NOTE: Our term finishes on Tues 5th June with our Commonwealth European Games.
All these events can only happen with the support of my wonderful team so to Yvonne, Lorraine, Liz, Lynne, Rebecca, Emma & Caitlin thank you I couldn't do this without your help. Finally, on behalf of all the girls & leaders we wish everyone a wonderful summer!

March
What have the girls been up to?
In January we took the time to find out what the girls would like to do and combine this with our badge work and other topical events. We had our very own Mini Burns Supper and all the leaders were blown away with the talents of our girls who provided us with an impromptu selection of songs and poems from Robert Burns along with a few others, very proud!!
In
February
we started our badge work and celebrated Thinking Day (founders day). The girls are currently working on the World Traveller Badge and they have all made their own passports to travel to different countries around the world and all countries picked are part of the World Guiding Family.
March
- we are celebrating Fairtrade Fortnight but we have two dates for your diary:-
Sunday 4th March
- to mark Thinking Day all the Guiding Units will be coming to the church service.
Saturday 10th March
- we would like to invite our Church Family to an Afternoon Tea to be held in Glebe St Hall from 12.00 to 16.00pm. This event has been arranged to coincide with Mothering Sunday and a fundraiser to cover transport costs to take all the Rainbows and Brownies to a sleepover to Deep Sea World Loch Lomond. The Rainbows are celebrating their 30th anniversary with a 'mermaid' theme so this was the perfect location. We hope you will come and support us on the day and let some of our girls earn their hostess badges. Watch this space for more news,
Christine Tweedie Brown Owl
P.S. Our pack is currently full. We have 32 Brownies and unfortunately no spaces available until Sept 2018 and I already have a waiting list!