East Kilbride
Old Parish
Church
Our Space - Brownies
17TH EK RAINBOWS AND BROWNIES ( July EKO )
From the middle of May we have 'Zooming' with our girls. It has been absolutely fabulous getting the chance to see them and hear what they been up to during lockdown. Although Zoom hasn't been for everyone our numbers have been good so we have kept things going but we will stop this term on Tuesday 23rd with a Zoom Beach Party. The girls have been encouraged to work on badges at home and I have two girls who have completed 6 each! Amazing! We try with the limited time available to work on our programme, so the break-out rooms have been great letting the Rainbows & Brownies work independently. The Brownies should have been at camp from 5-7th June but no Gowanpark for us this year. On the Friday when we were due to leave, I contacted all the parents. I asked the kids to sleep somewhere different over the weekend, some excellent pictures taken and camp tradition to have French toast for breakfast with their family on the Sunday. Small gestures but we still marked this annual event and the good news, already booked 6-8th June 2021, but don't tell the Brownies as they don't know. As the lockdown starts to ease we hope all our Church Family continues to be safe and well in these exceptional times
From all the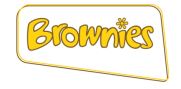 March 20 EKO Report
On February 22nd, every year, we celebrate thinking day and our World Wide Guiding Family. We make this a special event and this year the girls decided to celebrate guiding in Australia and came prepared with facts, information and souvenirs (picture below) They were very concerned about the Australian bush fires, sea pollution and its impact on the Great Barrier Reef. Our citizens of tomorrow are certainly tuned into the environment.
Tues 25th - we celebrated pancake Tuesday, an annual event.
We are doing a project on Fair Trade Fortnight, which started on Mon 24th. This year it's all about coca growers and chocolate, so how
about trying the recipes. (In the EKO see Pages 9, 10, 11 & 12 pull-out section).

Preview for March
The girls want to give something back to our community and wider world by fundraising for toilettwinning.org.We want to raise £300.00 to help people get access to a safe loo, clean water and hygiene education. We would welcome your help and support by coming along to our 'Afternoon Tea' on Sat 21st in the Glebe St Hall from 11:00 - 15.00. EVENT POSTPONED
From all the girls & leaders
February 2020 Report on What's Happening - Guides, Brownies, Rainbows?

Nov 2019 Annual Shoebox Appeal - 180 boxes packed + extras, £280.00 to assist with transportation. All donations went to Blythswood Care who sent them on our behalf to those in most need. A huge thank you to our Church Family for your continued support to make this happen and my invisible team of box wrappers and packers, we couldn't do this without YOU!
December 2019 - we usually decorate one of the church windows for advent and ask the girls for their ideas. This year they decided on an eco friendly tree using recycled waste. Unfortunately the tree didn't make it to the window!
On Saturday 7th Dec, the girls sang to the residents at McKillop Gardens and this has now become an annual event. The girls really enjoyed the interaction with the residents and they would love us to go back at Easter. After lunch it was panto time, oh yes it was, Mother Goose. Big surprise when the girls got invited onto the stage to get pictures taken with the cast, fab end to a great day.
On Tues 10th, we had a Rainbow/Brownie Christingle service. This was well attended by the girls and their families and let them experience the light of Christ shining on the world at the darkest time of the year.
We ended the term with our joint Christmas party on Tuesday 17th where girls exchanged £1.00 gifts like a secret Santa.
Nearly forgot: we also squeezed in a visit to the cinema to see a Guiding only viewing of Frozen 2 where all the girls received a special commemorative badge.
Jan 2020 - we are busy working through the new Guiding programme and plans for other events later in the year like our annual camp, we will keep you posted but we would like to close by wishing all our Church Family a Happy New Year.
From All the Girls & Leaders
'Future Girls Plastic Promise' (Guides/Brownies/Rainbows Project):
The Rainbows, Brownies and Guides are taking part in the 'Future Girls Plastic Promise' Acts Week from 30th to 6th October.
We will be making a promise to reduce, reuse and recycle plastic. As such we are in need of clean green-coloured plastic bottles (like 'Sprite'), and milk/bottle tops/caps, plastic packaging. Please help us by saving your plastic and recycle these in to the hands of the Rainbow, Brownies and Guides by the end of November. (They meet in the Glebe St Hall on Tuesdays 5.30pm - 9pm if it helps, but we can probaby arrange to receive donations at the church - more to follow on this. Many thanks, (Lorraine Kerr, Rainbow Leader)