East Kilbride
Old Parish
Church
Our Space - Brownies



May '19
As I write we are busy preparing to go on pack holiday from Fri 24th - Sun 26th May, 16 girls and 7 leaders. This will be our 7th visit to Gowanpark with girls and leaders all agreeing it is one of our favourite spots, so hope the sun shines on us. I can't tell you this year's theme as the girls don't know. All will be revealed in September magazine along with some pictures. So what have we been up to since we last caught up?
This year we have been getting to grips with the new training programmes, interest badges, skill builders etc. but we have still managed to squeeze in lots of fun.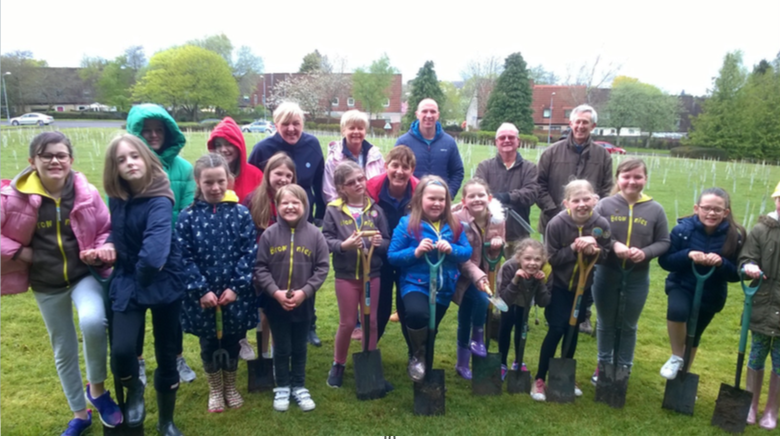 This term we are trying to get outside planting the garden at the Glebe St Hall. We teamed up with EK Rotary planting a new woodland at Ballerup, 1918 trees marking the end of the 1st World War. We planted 40 trees and all monies raised went to the Poppy Appeal - great thing to do supporting the community and environment.
Last Tuesday we had our annual sports night, very competitive and I'm only talking about the adults. On Tuesday 28th May we are going on a penny hike around the village.
We finish on Tuesday 4th June with our BIG BROWNIE ICE OFF - a competition involving cake decoration, that's all I can tell you at the moment - more pictures later.
Christine Tweedie- Brown Owl
December '18

So what have we been up to since our last update?
In preparation for making their promise our new Brownies planted the garden at the Glebe St Hall and filled the planters at the front door with pansies and violas, we hope you like it. They came up with their own design and we hope you can see what it represents. The girls also planted hyacinth bulbs that will flower for Christmas. Over the next few weeks the girls will be making items to decorate the church window and rehearsing to go singing to the residents at McKillop Gardens.
Shoebox Appeal 2018
This year the response to the appeal was exceptional and we thank everyone for their continued support. At the 'donations coffee morning', in addition to the goods donated, we received money donations of £383.83 to assist with transportation. The final totals were 180 boxes packed and £650.00 to assist with transport. A huge thank you has to go to our marvellous team of ladies who wrapped boxes and assisted with checking. You know who you are and we couldn't do this without you. So thank you Church Family for your continued support and know that it will bring smiles to people this Christmas.
Christine Tweedie Brown Owl