East Kilbride
Old Parish
Church
Our Space - 17th EK Rainbows
17th EK November 21 Update from Brown Owl:
All three units are meeting in Glebe St Hall at the same times as before

but the sessions are shorter to allow for Covid cleaning

:
Our numbers are also reduced as follows;
Rainbows 18, Brownies 24 and Guides 18.
The girls are all working on the GG programme and we are supplementing this with other events, planting out community pots in the village for winter and donating filled pots to the residents at McKillop Gardens.
Our Halloween Fun Night was held on Zoom.
In December, the girls are looking forward to decorating a church window for Christmas, a trip to the cinema (no panto this year) and a Guiding Christingle Service.
August 21
I am very proud to say since March 2020 all our guiding units, Rainbows, Brownies and Guides have been meeting weekly on Zoom keeping the girls connected. 2020/21 has been particularly difficult but we all rose to the challenge and needless to say we were delighted when F2F meetings could resume from May 2021, wonderful. With all our Covid protocols and risk assessments in place we met at the grassy area down from St Brides and it was amazing, to have games, sing and basically share in a normal night. We had a historical walk round sites in the Village where the girls achieved their Local History badge and our final night on Tues 5th June was a woodland adventure to the K-woodlands. Seven new Brownies made their promise at that event just wonderful. I attach below pictures of our adventures and all the badges the girls have worked on since Jan 2021.
So between supporting our girls and leaders, planting to improve our local environment we have been busy little Brownies. Fingers crossed we are back in our beloved hall from the start of new term in September.
On behalf of all the girls and leaders with wish you all a fab summer, keep safe
Christine Tweedie Brown Owl
January Report
We have continued to keep in touch with all our girls through Zoom and like most people, it has encouraged us all to learn new IT skills. The girls have been busy with various activities;
Christmas crafts - the girls all received craft packs before our Zoom event where they made advent Santa Calendars, gift tags, decorated baubles, cards etc. I would like to thank all our leaders for their support and sharing some of their craft ideas with us all.
Panto - the girls took part in not one but two panto's this year via Zoom. Girlguiding gave us Sisterhood in the Wood, a little bit like Babes in the Wood but not a traditional panto. On asking the girls for feedback, one of the Brownies said not enough "behind yous" or booing and hissing but she did give it 7 out of 10. Then along came Jack and the Beanstalk more traditional but still didn't make up for our annual visit to The Village Theatre to see the EK Rep Panto.
Christingle Sunday 20th Dec 4pm - this for me is one of these moments when I feel the Christ Child is on the way. Anne very kindly hosts an annual Christingle for all our Guiding units. This year again via Zoom we joined with our Sunday School families and put some light into the world at this darkest time. A huge thank you to the Kelly girls for reading and Iain Shaw for pulling everything together plus wonder hymns.
Glebe St Garden - my plans to have all the childrens' decorated stones into the garden has failed to happen but I promise they will appear there early January. So you don't miss out please see a sneak preview below.
Despite everything happening in the world at the moment, we can never be separated from Gods love or the wonder and splendour of his creation in all its glory as displayed tonight at Kingsgate (picture on the next page).
On behalf of all the girls and leaders we wish all our Church Family a safe and more settled 2021.
Christine Tweedie - 17th EK Rainbows & Brownies plus All our wonderful Owls xx


Remember to look at all our photos in the Photos gallery!
November 2020 - Where are the girls?
While we are all living in these uncertain times, it is good to know some things are normal - like the autumn colours on the trees. We are meeting up with the girls every week on Zoom and doing a variety of activities from badges, skills builders, games, cooking, art work etc. We are currently working on the garden at Glebe St. We will soon be adding our decorated stones and we hope you enjoy the finished article.

Shoebox Appeal 2020 - at this time normally, we would be well into our preparations and our children would be looking forward to packing the boxes. This year to support Blythswood Care, the charity who transport the boxes, we need to do things differently. If you'd like to make a donation, please email Blythswood Care at:
This email address is being protected from spambots. You need JavaScript enabled to view it.
Blythswood also have a Christmas Gift catalogue:
www.blythswood.org/gift-catalogue
Order line 01349 830777
If you don't have email access and would like to make a monetary donation please contact me to make arrangements and I will happily send to Blythswood on your behalf.
Let's continue to share God's love and bring a smile to people's faces this year when so many people face lots of challenging times.
Finally, all our guiding units have been working hard to gain numerous badges. On behalf of us all we would like to share the 'Conquering the Covid Crisis' badge with our church family as the words say it all.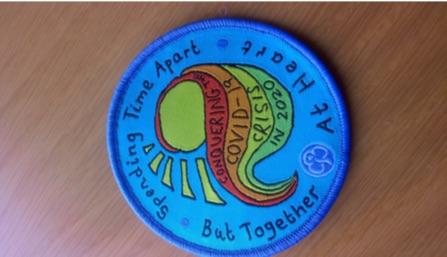 On behalf of all the girls and leaders please keep safe and healthy
Christine Tweedie (Brown Owl)
From the July 20 EKO
From the middle of May we have 'Zooming' with our girls. It has been absolutely fabulous getting the chance to see them and hear what they been up to during lockdown. Although Zoom hasn't been for everyone our numbers have been good so we have kept things going but we will stop this term on Tuesday 23rd with a Zoom Beach Party. The girls have been encouraged to work on badges at home and I have two girls who have completed 6 each! Amazing! We try with the limited time available to work on our programme, so the break-out rooms have been great letting the Rainbows & Brownies work independently. The Brownies should have been at camp from 5-7th June but no Gowanpark (picture to follow) for us this year. On the Friday when we were due to leave, I contacted all the parents. I asked the kids to sleep somewhere different over the weekend, some excellent pictures taken and camp tradition to have French toast for breakfast with their family on the Sunday. Small gestures but we still marked this annual event and the good news, already booked 6-8th June 2021, but don't tell the Brownies as they don't know. As the lockdown starts to ease we hope all our Church Family continues to be safe and well in these exceptional times
From all the