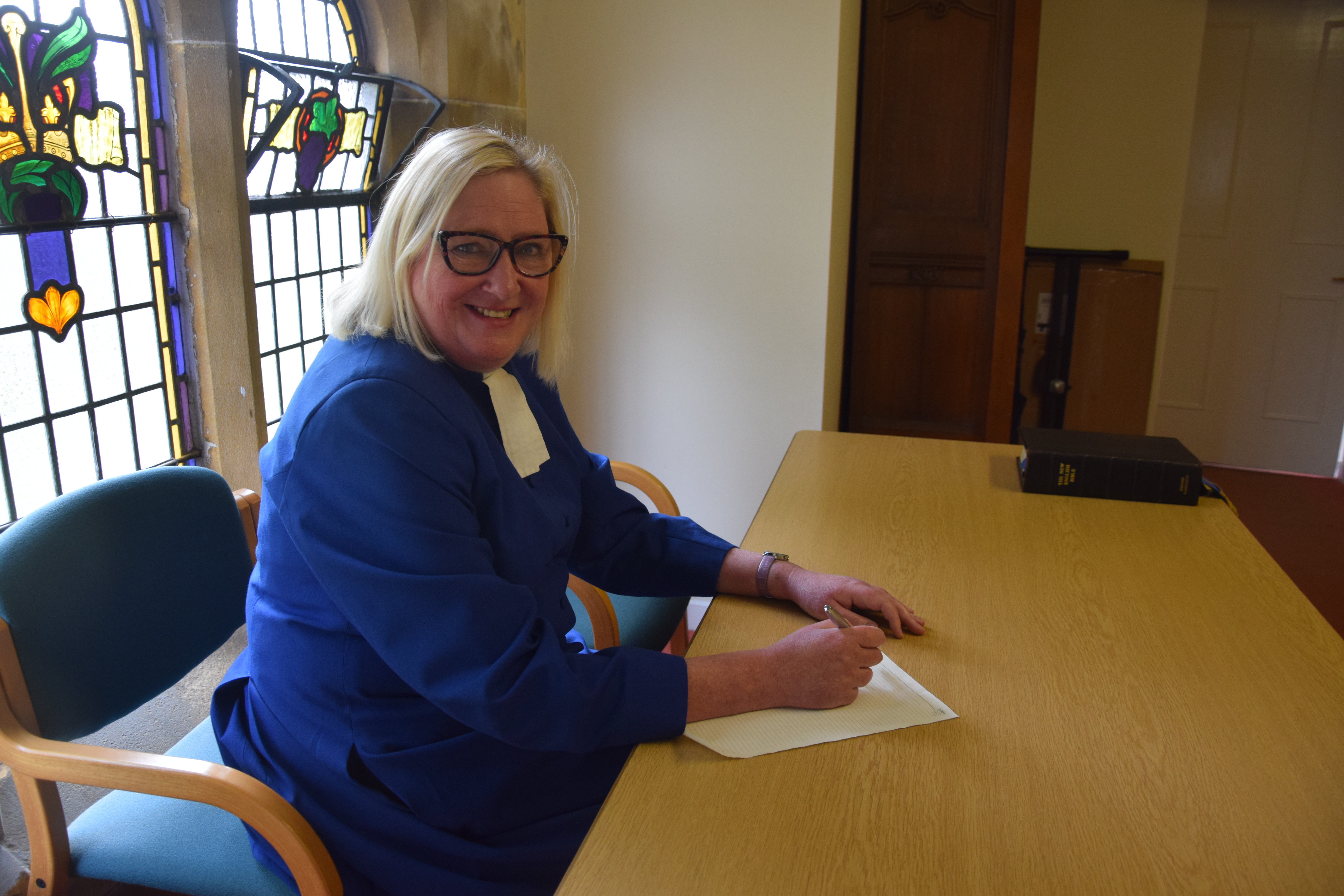 PASTORAL LETTER
I trust you've made your New Year's resolutions. I think in the past the usual resolutions were to lose weight, to eat healthier and to exercise more. This year I'm going down a different path and aiming to be "greener" in the way I live my life. In the run up to Christmas I was involved in a number of schools' events for primary 6 age children, and at the end of the event, they were to write their hopes for Christmas. As always there were hopes about families being reunited and they were heart-breaking, but I was astounded by how many of our children are passionate about our environment, and the future of our world. So, this New Year, I'm going to be greener, recycle more and avoid single use plastics as much as I can.
Resolutions are good, especially if there are changes we need to make in our lives, and I believe we all need to take environmental issues seriously. I love the old story about one poor guy who phoned his girlfriend and got the following recording: "I am not available right now, but thank you for caring enough to call. I am making some changes in my life. Please leave a message after the beep. If I do not return your call, you are one of the changes."
It's good to make changes, for the most part. As we are often reminded by our critics, our spouses, our children, or our friends, none of us is perfect. In fact, some of us might have some deep regrets about the way we've lived our lives. New Year, is in some ways, only another day, and yet at the heart of our Christian faith is the fact that every new day is a new start with God. What has happened in the past is gone, we are forgiven all our faults and can begin again with a clean slate.
I wish you all a happy and blessed New Year.
Anne Paton
PASTORAL LETTER FOR DECEMBER (FROM FIONA ANDERSON)
Seasons Greetings
It seems a bit premature writing 'Seasons Greetings' in the middle of November, but by the time this goes to print and reaches you at the beginning of next month the greeting will be well and truly apt….so I do wish you 'Seasons Greetings'.
I have been with EKOP for almost three months now; a quarter of my allotted time…. how quickly has that passed? They say 'time flies by when you're having fun'…. and I certainly am enjoying my time worshiping with you folks and I really appreciate the welcome that I've received. For those of you who have been wondering what I've been up to behind the scenes, I thought I'd use this opportunity to tell you, so here goes: as well as seeing me 'in action' on a Sunday, I have accompanied Rev Anne to a funeral, a wedding, and we shared a lovely home visit with baby Heidi and her parents prior to Heidi's baptism a few weeks ago. I have also been to a couple of Kirk Session meetings; I have conducted the worship element at two Messy Church events; I met with Rev Anne and Organist Colin to arrange the Sunday hymns and music from October to the end of the Calendar year; I've been to a couple of Presbytery meetings, where I serve on the Finance & Stewardship Committee and I've spent a couple of Saturdays on training days that I volunteered to go on, namely, Godly Play and Autism in the Church. I also regularly meet with Rev Anne and I am grateful to her for the experience, wisdom, and encouragement she shares with me. Additionally, I am also currently undertaking a module with Highland Theological College on the subject of Preaching, which runs through to the middle of December, and I have signed up to take another one after Christmas, on the subject of Chaplaincy. I am confident that both of these courses will help me going forward in my ministry, wherever that may be.
One of the things you may not know is that I have been given a congregational support group. The purpose of this is two-fold: to both give me feedback on how I'm doing from a congregational perspective, (as opposed to a ministerial perspective which I receive from Rev Anne), but also to give me encouragement, which is really valuable. I have not asked for their permission to name them so I won't, but I am grateful to them for their input so far, so thank you.
I love December in church. I love singing Carols and I love all the Christmas services, so I am really excited to be worshipping with you over the Christmas period, especially to hear the choir on December 1st, the Silver Band on December 15th, and the week in between, December 8th, I get the opportunity to conduct the sermon. Messy Church is also hosting another event on Sunday 1st December, so please encourage any young folks you know to come along and get into the Christmas Spirit at our Christmas themed Messy Church.
I'm going to be bold and pose you all with a challenge! Are you up for a challenge? Think Advent Calendar with a difference! I would like to encourage you to look out your Bibles and go straight to the New Testament Book of Luke. Luke's Gospel has 24 chapters. Therefore, if you commit to the
challenge to read one chapter of Luke's Gospel each day from December 1st right up to Christmas Eve on 24th December, you will have read the full account of the birth, death and resurrection of our Lord and Saviour….and hopefully this year you will be reminded that The Good News Story of Christmas, will be the best story you will ever hear.
I want to leave you with a poem that I found on the internet, so herein lies challenge number 2…..
When the carols have been stilled;
When the star-topped tree is taken down;
When family and friends have all gone home;
When we have all returned to our regular routines,
Then the true work of Christmas begins:
To welcome the refugee;
To heal a broken planet;
To feed the hungry;
To build walls of trust and not fear;
To share our gifts;
To seek justice and peace;
And to take Christ's light into the world, for everyone to see.
With every good wish.
Fiona
PASTORAL LETTER FOR NOVEMBER
Last year, being the 100th anniversary of the end of the First World War, many churches put on a display of poppies. Our own church participated in this. Over the last year however, so many people were touched by the poppy display that they have knitted or crocheted poppies to be included this year. We have been absolutely overwhelmed by the response. We are also planning to include in our service, the silhouettes of the "unknown soldiers" to remind us of the awful cost of war.
During the years there has been talk about whether Remembrance Day is a thing of the past, and talk of how relevant it is to people today, but it strikes me that this response of people making poppies is just a small sign of how much the day means to people. The number of folks who gather at the War Memorial to observe the silence has not decreased during the years. It's important that we remember in our own way.
Every night in the town of Ypres in Belgium, a crowd gathers at 8pm beneath the Menin Gate to remember in their way and to observe the ceremony of the Last Post. It is a simple, but profound way to remember all those who gave their lives during the First World War. Inscribed on the gate are the names of thousands of soldiers killed, and with no known grave.
There can surely be no more graphic reminder of the awful cost of war. This poem sums it up:
All at once fell silent as the clock came round to eight,
and a poignant tribute sounded beneath the Menin Gate.
And as the bugles faded till their sound was heard no more,
we saw then all too clearly the dreadful face of war.
Instead of names around us there were young men in their prime,
a tragic generation cut down before their time.
We heard their cries of anguish, we felt their searing pain,
and we understood more clearly this must never be again.
Unless we come together, until we learn to share,
until we love more widely and think in ways more fair,
then the last post will be sounded in the future just the same,
but the thousands who it heralds will all have died in vain.
(Nick Fawcett)
On 10th November we will remember all those who have lost their lives in conflicts, we will remember all who suffer because of conflicts, and we remember all whose lives will never be the same again because of conflicts. Let us also remember the one who died on a cross to put an end to death and misery, the one who said, "Love one another as I have loved you."
Yours in love, Anne Paton
PASTORAL LETTER FOR OCTOBER 2019
Today I had the privilege of being in Auldhouse Primary School. As a former primary teacher, it's always a delight to be amongst the children again. Today, in addition to saying "Hi" to the children I have come to know over the years, I was introduced to the new intake of eight Primary One children, and it took me back to the days when I began my teaching career, and had a primary one class of 33 children, with no extra help, and in the days when few went to nursery. How things have changed!
The children were busy. In the "wee class" (P1,2,3) they were making rainbow pictures, but two of the P1 children stopped to give me a preview of the poem they are practising for the Harvest service coming soon. In the "big class" (P4,5,6,7) they were making constructions with marshmallows and dried spaghetti. I would wonder if any of you reading this had the imaginations they had, their creations were quite spectacular!
Looking forward to our Harvest appeal, I looked tonight at the Christian Aid material and considered the life of Kamala in Southern India. Kamala has worked as a farm labourer for 25 years for 20p an hour. She speaks of her children and says, "They dream of having a career and studying engineering or medicine. I don't read or write. They shouldn't have to suffer the way I have had to." Sadly, Kamala was born into the lowest caste in Indian society.
Compare this to our children. We all have our moans and groans, and sometimes quite rightly so, but in this harvest season we also have so much to give thanks for. God has been good to us, and in our harvest offerings we have the opportunity to help those who do not have the building blocks in life which we have.
I close with a success story. Someone told me that the flu jabs were arriving at Hunter Health Centre this week, so I phoned yesterday to ask for an appointment and was told I could come today, so I'm all immunised for the winter. Compare this with people in other parts of the world who would walk for days to see a doctor. As we give thanks for the harvest, let's give thanks for the privileges we have, and use our harvest appeal to make a small difference in the lives of our fellow human beings who do not have the opportunities we have.
Yours in love, Anne Paton
PASTORAL LETTER FOR SEPTEMBER 2019
It's official, I've joined the realms of old people. For the past couple of weeks I've been struggling with sciatica and it's now got the better of me. Tom has just made the agonising phone call to the cruise company cancelling our upcoming holiday on Tuesday, we're gutted. Not for us the 31 degree sunshine of the likes of Malaga, Cadiz and Gibraltar, instead we will go to our apartment in Glasgow and on good days I might hobble up to the Merchant City or get the underground to the West End.
Many years ago I read an article called "When you're on your way to Rome and end up in Copenhagen." It imagines planning a journey to Rome, thinking about all the places you'll see, researching the history, and being excited about the architecture. Instead your plane stops at Copenhagen, and you have to get off. You are then faced with two choices. The first is to mourn the loss of the experiences you might have had in Rome. You can sit in your hotel room and look at photographs of the Vatican or the Colosseum and lament over what could have been. The second is to buy a guide book of Copenhagen, discover what that city has to offer, and get out there and enjoy it.
Disappointments happen to us all. We plan our journey through life, and then we get surprised along the way when it doesn't turn out the way we thought it would. Then we have a choice either to lament over what could have been, or accept and rejoice in what we have. How many of us can look back over our lives and identify the times when we've wished for something, but were sent down another path? All of us I'd guess.
On our journey of life, God hasn't promised skies always blue, but he has promised that he will never leave us or forsake us. So if things are not as you planned them right now, be assured that God walks with you.
Yours in love, Anne Paton
PASTORAL LETTER FOR JUNE 2019
I am privileged to be part of the chaplaincy team at Calderglen High School, and was fortunate to be involved in a series of school assemblies last week. One of the RMPS teachers was doing a presentation on Ramadan, the Muslim festival which is being observed at this time. I'm sure you know something about this festival, but let me just give a quick guide. Ramadan is a time for personal reflection and self-examination. (A bit like Lent is to us.) It's a time when Muslims look at their lives and try to be better people. It's a time for reading the Koran and for giving to charity. It's also a time for fasting.
Muslims fast from sunrise until sunset, and observing Ramadan at this time of the year, when we're coming to the longest days is a real challenge. There are a number of pupils in Calderglen observing this fast, so it was important to inform their fellow pupils in order that they could be understanding towards them. By the end of the festival, the sun will rise at 4.45am and will set at 11.10pm. During this time, there will be no food eaten and no water drunk. One of our friends, Thamar, is observing the fast. He's a research student, so copes with it by working during the night and trying to sleep during the day. Speaking to him the other day he was telling us that he can cope with no food or liquid, but it's going without cigarettes that he's struggling with.
I'm not advocating that we should all follow their example, but it really made me think about faith being costly, and not taking the easy way out. Genuine faith should sometimes take us out of our comfort zones and challenge us. Maybe over the summer months as we take time to relax, we should also reflect on our own faith journey, and ensure that we don't become complacent.
Yours in love, Anne Paton
PASTORAL LETTER MAY 2019
This year, I am a commissioner at the General Assembly, our annual church business meeting. The hot topic this year is the Council of Assembly's report, bringing before us the "Radical Action Plan," which addresses amongst other things, falling numbers and an older demographic amongst our members. (They brought one last year but it was thrown out because it wasn't radical enough!) We will see!
Recently at the Kirk Session meeting we talked about the things Jesus NEVER said, and one of the things he NEVER said was "It's better to be safe than sorry." Our faith asks us to go out and take risks. Obviously as good stewards we are not called to be reckless, but following Jesus Christ involves leaps of faith. I write this on Easter Sunday after we celebrated for the first time in East Kilbride Old, an all age communion service. I worked on the service with Iain, our Children's and Families Worker and yes, we were a bit concerned that some people might not like it. However, the feedback we had after the service was overwhelmingly positive, and I will never forget the picture of our children serving communion to the congregation. (Recipe in the magazine due to popular demand.)
"Behold I am making all things new" says the Lord. Let's hope the General Assembly doesn't think that it's better to be safe than sorry, and takes a leap of faith, does something different and radical and turns the trends in the church another way.
Yours in love, Anne Paton